The historic COVID-19 pandemic ravaging the modern world has continued to rage for a year now, after it first started in Wuhan in November and December of 2019. Today, 56 million cases have been confirmed globally (a guaranteed understimate of the true case numbers) with over 1.3 million people having lost their lives to COVID-19. Global economies have been battered, with widespread bankruptcies and record government stimulus seeking to stave off a global economic depression. As the pandemic has evolved the prospects for controlling the virus have looked increasingly grim, with record second waves across much of the northern hemisphere.
But on November 9th finally, a ray of hope. Of the over 160 vaccine candidates under development (see Trajectory #18), US pharmaceutical giant Pfizer was the first to announce the results from its phase 3 study with an incredible 90% efficacy. Stock markets and global sentiments immediately soared globally. Just one week later US biotech company Moderna announced preliminary phase 3 results for its vaccine candidate with 95% efficacy. Finally, after a year of rising cases and deaths the prospect for ending the COVID-19 pandemic is within sight.
Pfizer Vaccine
Efficacy: 95% effective
Dosing: 2 dose per person
Phase 3 Results: 43,000 participants enrolled. 170 COVID-19 cases were observed in the trial group, with 162 in the control group and only 8 in vaccine group. 10 severe cases of COVID-19 were observed with one observed in the vaccinated group.
Side Effects: Fatigue in 3.8% of enrollees, headache in 2%
Storage: Must be kept at -70C, -112F
Production: The companies expect to produce globally up to 50 million vaccine doses in 2020 and up to 1.3 billion doses by the end of 2021
Moderna Vaccine
Efficacy: 95% effective
Dosing: 2 dose per person
Phase 3 Results: 30,000 participants enrolled with half being vaccinated and half placed in the control group. 95 COVID-19 cases were observed, with 90 in the control group and and only 5 in vaccine group. 11 cases of severe cases of COVID-19 were observed with none observed in the vaccinated group.
Side Effects: includes injection site pain (2.7%), and after the second dose included fatigue (9.7%), myalgia (8.9%), arthralgia (5.2%), headache (4.5%), pain (4.1%) and erythema/redness at the injection site (2.0%).
Storage: 2-7C, 36-46F
Production: By the end of 2020, the Company expects to have approximately 20 million doses of mRNA-1273 ready to ship in the U.S. The Company remains on track to manufacture 500 million to 1 billion doses globally in 2021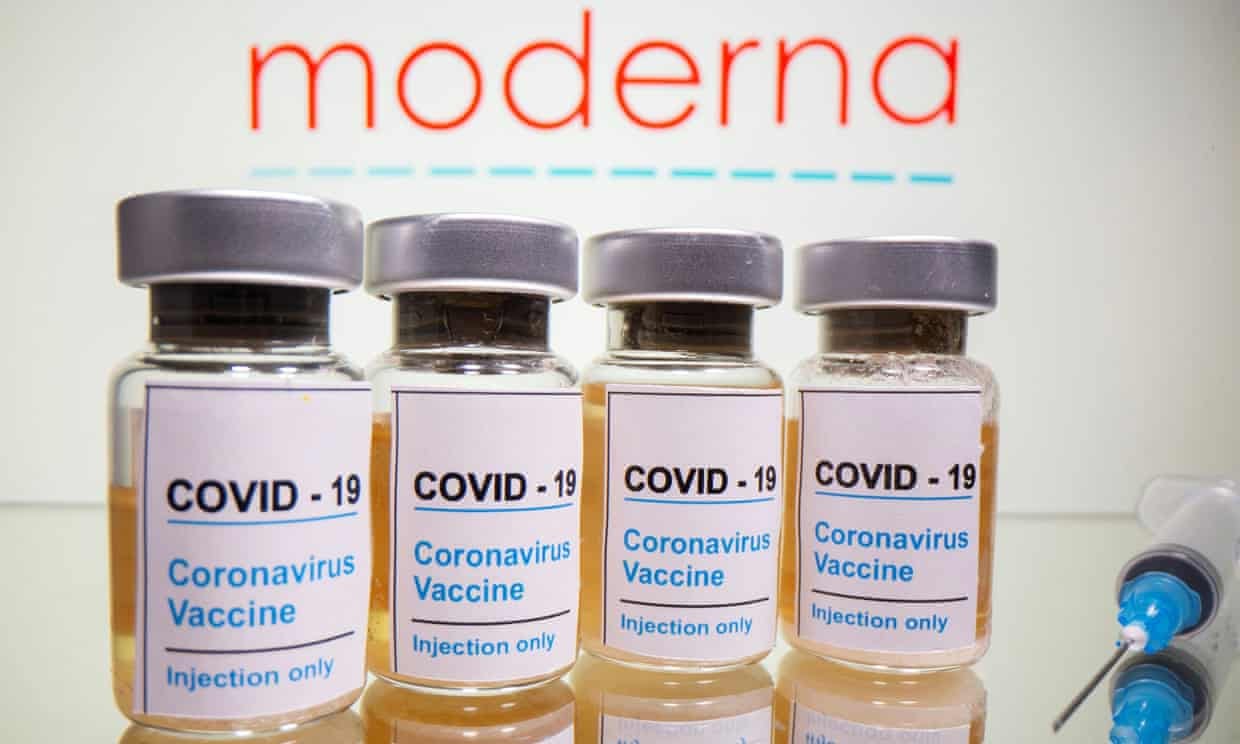 Image from the Guardian.
In just 11 months Pfizer and Moderna have shattered the previous record for vaccine development of four years for the Mumps vaccine. Not only were these vaccines developed in record time, they are also the first mRNA vaccines that will ever be approved for use in humans. The side effects are not to be ignored and will require strong and consistent public health messaging to avoid tainting the reputations of the vaccines and motivating people to avoid taking them. Nonetheless, the vaccines are a testament to the power of the modern world, science and innovation by necessity.
However, the US government has played a vital role once again as the leader of the world in enabling the development of these vaccines. The Trump administration launched a public-private partnership named "Operation Warp Speed" in early April with the goal to "produce and deliver 300 million doses of safe and effective vaccines with the initial doses available by January 2021." Operation Warp Speed has helped numerous companies involved in COVID care and vaccination:
April 16: The Department of Health and Human Services (HHS) made up to $483 million in support available for Moderna's candidate vaccine, which began Phase 1 trials on March 16 and received a fast-track designation from FDA. This agreement was expanded on July 26 to include an additional $472 million to support late-stage clinical development, including the expanded Phase 3 study of the company's mRNA vaccine, which began on July 27th.
July 22: HHS announced up to $1.95 billion in funds to Pfizer for the large-scale manufacturing and nationwide distribution of 100 million doses of their vaccine candidate.
August 11: HHS announced up to $1.5 billion in funds to support the large-scale manufacturing and delivery of Moderna's investigational vaccine candidate.
The monoclonal antibodies treatments from Eli Lilly (granted emergency use authorization) and Regeneron (pending emergency use authorization) have together been granted over $800m by Operation Warp Speed
Operation Warp Speed has allocated $1.5 billion to local manufacturing and distribution partners in the US to speed up vaccine production and distribution nationwide.
Image from Reason
Operation Warp Speed has been a resounding success and a reminder of the immense power of focused government effort and leadership and the ingenuity and responsiveness of the private sector. More importantly, Operation Warp Speed is a template for future public-private partnerships between the US government and private sector partners to target other major issues of our time: cancer, climate change, autoimmune conditions and many more.
Ending COVID-19: Distribution and Herd Immunity
An endgame for the COVID-19 pandemic is finally taking shape. The Pfizer and Moderna vaccines (with more likely on the way) combined with therapeutics such as monoclonal antibodies (from Eli Lilly and Regeneron), convalescent plasma, Dexamethasone and Remdesivir (efficacy under debate now) give us a broad toolkit for blunting, controlling and ending the pandemic.
Based on current projections Moderna and Pfizer will be able to produce a combined total of anywhere from 1.8 – 2.5 billion doses of their vaccines. Given that both vaccines require a person to receive two doses, this means in 2021 we will be able to vaccinate 900 million to 1.25 billion people globally in 2021. We will require 15.6 billion doses to vaccinate the entire global population. At first look, current production looks deeply inadequate for our current global needs.
However, the world only needs to vaccinate enough people to reach "herd immunity" – the level of immunity in the population that halts the spread of a disease. Modeling has estimated that herd immunity for COVID-19 will be at about 40% of the population. Given that, we will have to vaccinate just over 3 billion people globally to reach a base level of herd immunity. At current production rates we will be able to reach that level by the end of 2022.
Given that young people face very low levels of risk from COVID-19, by focusing vaccination on vulnerable groups – the elderly, those with preexisting conditions and healthcare and transportation workers – we will be able to control the pandemic even faster. A return to relative normalcy by the summer of 2021 is within our reach given the tools now at the world's disposal.
There are lots of reasons to be hopeful that the end of the COVID-19 pandemic is within sight and 2021 will see the world transition back to relative normalcy. Two difficult questions remain regarding how to bring the world back to normal. Firstly, how can the limited number of vaccines be equitably distributed globally to bring the pandemic under control? Secondly, how long will protection from the vaccines last? The truth is, nobody knows.
If you haven't already, subscribe here. If you liked this week's piece and think someone else you know would find it interesting please take a couple seconds to share it via email or on social media.