This article was originally published in my newsletter Emergent.
Southeast Asia is the most dynamic internet economy in the world outside of the United States and China. The number of internet users in the region has soared from 260 million in 2015 to 400 million by 2020. The region as a whole has a population of 650 million – about 9% of the total population of the world.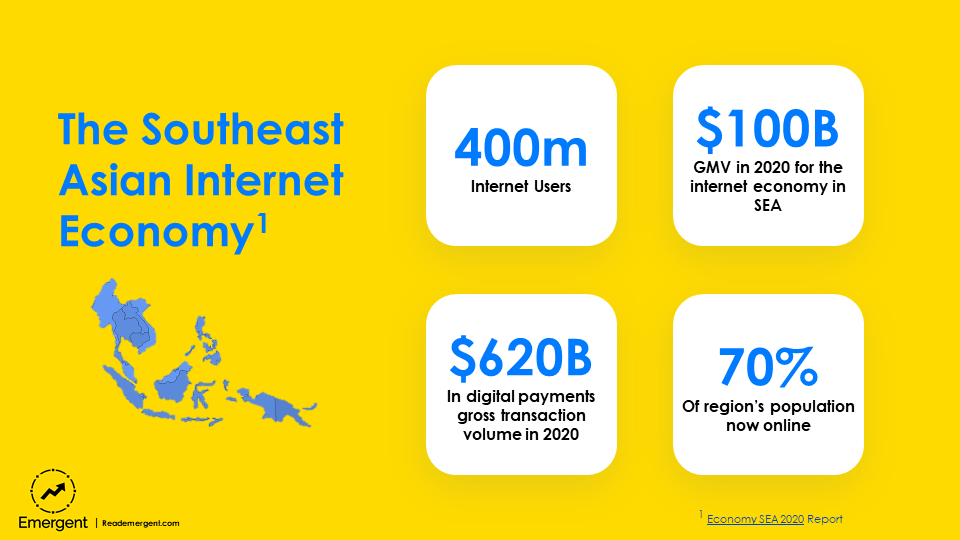 Data from Economy 2020 Report
With tens of millions getting mobile phones and coming online every year, Southeast Asia has proven to be fertile ground for a new wave of locally-founded startups. Today, the region's most valuable startup is Grab.
Grab is a Southeast Asian SuperApp offering users ridesharing, food delivery, financial services and much more. Grab was founded in 2012 and since then has grown to become a regional powerhouse:
Products
Grab initially launched as a ride-hailing business like Uber of Lyft. Over time however as its ride-hailing business has scaled, Grab has expanded its service offerings to encompass a broad range of products, following much of the playbook laid out by Meituan in its evolution into a SuperApp.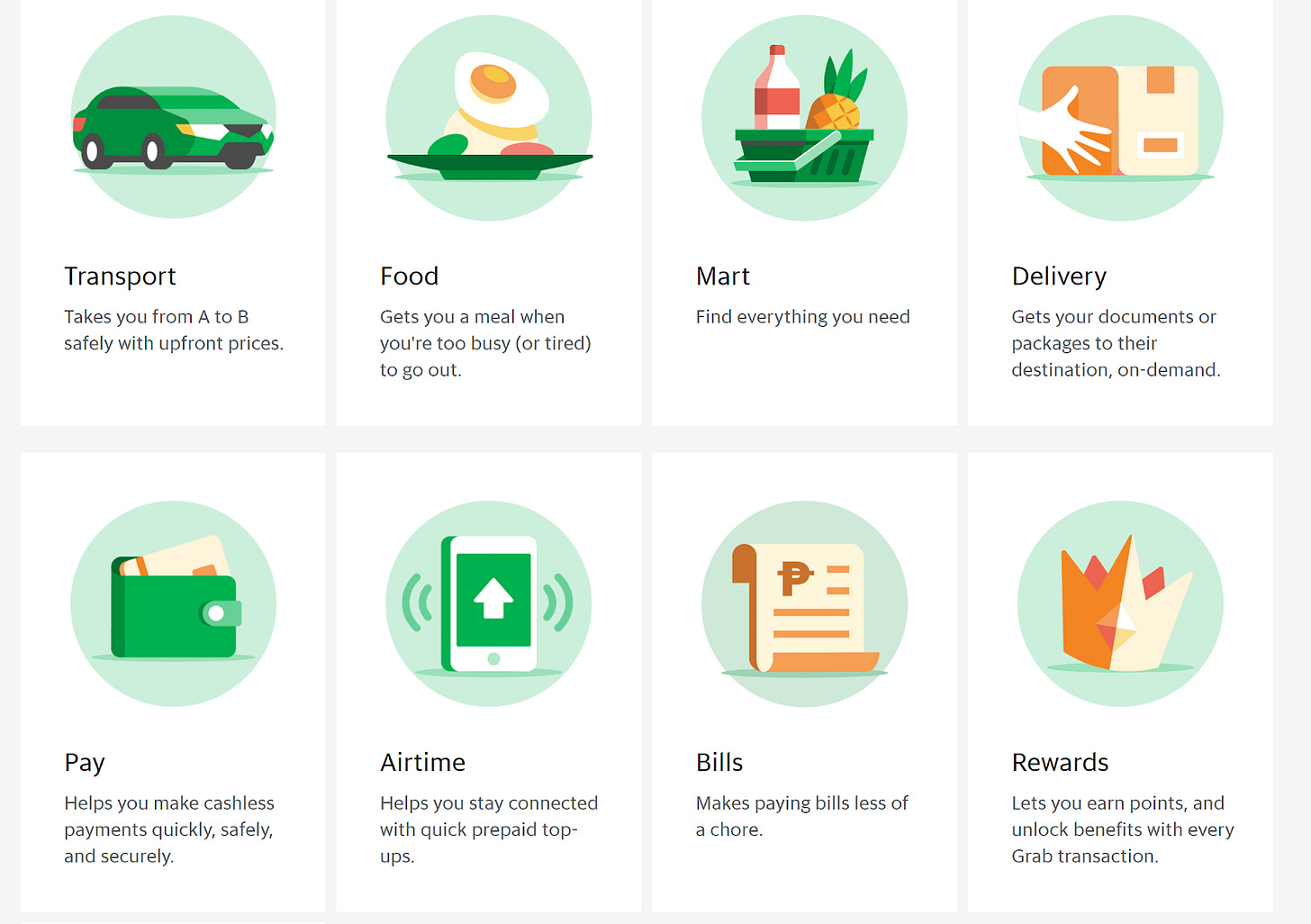 Grab has utilized its broad network of drivers to expand into a range of other logistics services including grocery delivery, food and ecommerce delivery. This has proven to be a natural evolution for delivery and ridesharing players worldwide with Meituan, Uber, DoorDash and many others deploying a similar strategy.
However, Grab's evolution into a SuperApp truly began when it expanded into financial services. GrabPay is Grab's financial service offering and can be used to pay for all Grab services. However, GrabPay is more than just a tool to pay for Grab services, offering users:
In-store purchase capability with QR Payments
Peer-to-peer transfers
Grab Credit Cards
GrabReward Points for shopping
GrabInvest – an investment service for users
GrabPay has quickly evolved into a full-service suite of financial products, complimenting Grab's expanding suite of delivery and ecommerce services.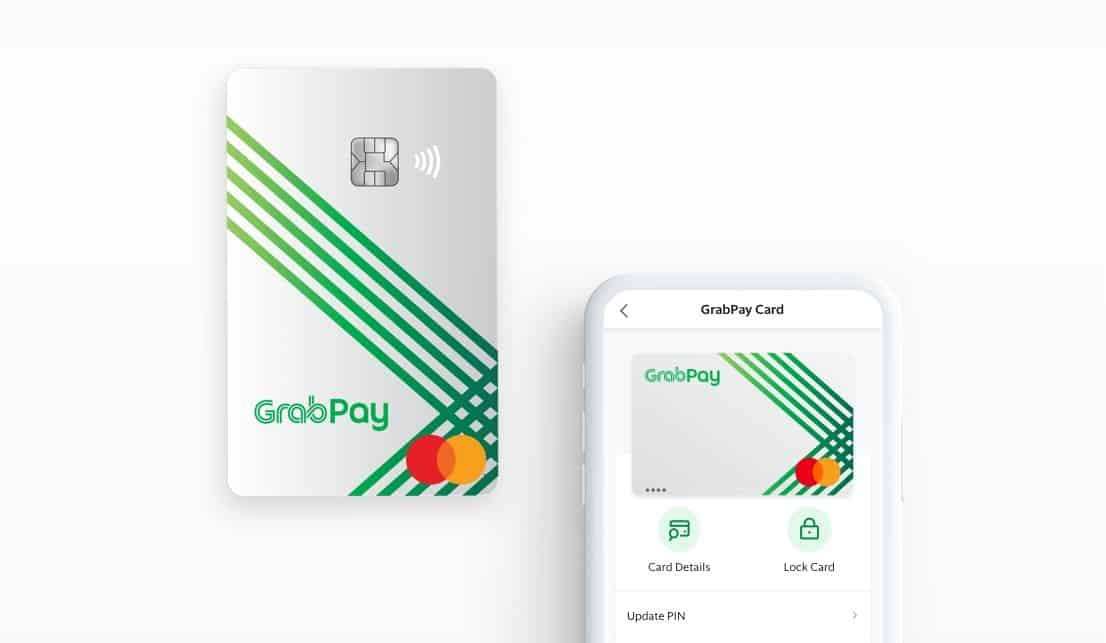 Competition
Grab's path to become the most valuable startup in Southeast Asia has not been without significant competition. In Grab's early days between 2012-2015 it was fighting a turf war with Uber for dominance in the region. Grab launched in Malaysia in 2012, a year before Uber launched in Singapore – its first market in the region. Grab capitalized on this early lead and focused on launching in new markets like the Philippines, Thailand, Vietnam and Indonesia, beating Uber by a few months in each market.
However, Grab also put significant effort into localizing its product for each market while Uber stayed true to its traditional model of having private drivers transport users with their own cars. When Grab first launched for example, it partnered with taxi companies as a way to quickly expand its fleet of drivers – an approach that was anathema to the DNA of Uber. But Grab did not stop there. In Vietnam Grab launched a bicycle-hailing service because it realized there was a market for it. In Thailand and other markets Grab launched a motorbike-hailing service and experiments in more developed markets led to the birth of GrabPay.
By 2018 it was becoming increasingly clear that Grab had established a dominant position in the ridesharing market in Southeast Asia. In March of 2018 after burning hundreds of millions of dollars, Uber threw in the towel and agreed to merge its southeast Asia operations into Grab in exchange for a 27.5% ownership stake in Grab. The story of Grab's victory over Uber in Southeast Asia is one of a still limited but growing number of stories of a locally-founded startup beating a heavily-funded Western competitor.
Grab's main competitor today is GoJek after Uber's withdrawal from the region. GoJek is an Indonesian ride-hailing unicorn with significant market share in Indonesia. Like Grab, it has evolved into a SuperApp over time and now offers over 20 different products to its users including ride-hailing, food delivery, medicine delivery, movie streaming and ticket sales and a suite of financial products through its GoPay service.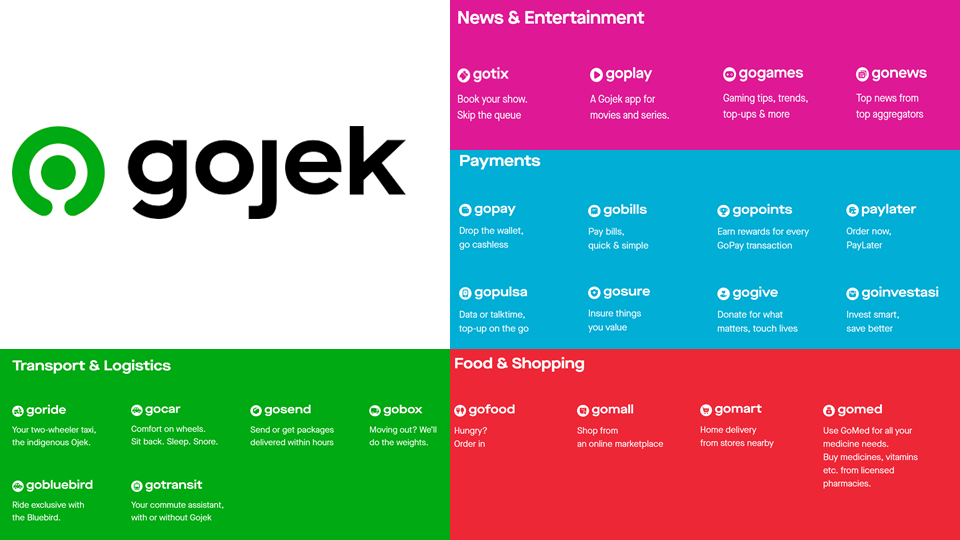 GoJek is a huge business in its own right and has over 2 million drivers delivering over 7 million orders per day and almost 1 million merchants on its platform. Unlike Grab, GoJek has not pursued an aggressive expansion strategy in the region and has mostly focused its efforts on the Indonesian market – a country of 260 million people.
It has been reported that GoJek and Grab were having merger conversations last year with the goal of combining their business to create a monopoly in the region. However, those talks seem to have fallen apart and now GoJek is reported to have signed an initial merger agreement with Indonesian ecommerce giant Tokopedia. This merger, should it go through, will strengthen GoJek's hand tremendously versus Grab by giving it a broad customer base and huge pool of ecommerce orders to service with its delivery infrastructure, as well as new users to acquire for its digital services like GoPay.
Grab's other main competitor is regional conglomerate Sea – also a major competitor for Tokopedia. Sea's ecommerce business Shopee has grown exponentially in the region over the last two years and its growth is being complimented and partly powered by the rise of SeaMoney – its digital payments and financial services arm.
2020 was a breakout year for SeaMoney seeing it reach 23 million paying users by the fourth quarter and processing $7.8 billion in payment volume for the year. SeaMoney is a significant priority for Sea and in December 2020 it received a full digital banking license in Singapore, a precursor to the launch of a range of new financial services for SeaMoney users.
Growth Opportunities
GoJek's size and potential merger with Tokopedia and the rapid rise of Sea's ecommerce marketplace Shopee and SeaMoney represent formidable competitors to Grab across its delivery and financial service businesses. Despite that, Grab's broad regional presence (300+ cities, 8 countries), deep logistics network (3 million drivers) and broad user base position it well to compete with both companies as competition heats up in Southeast Asia.
Despite the competition there is still plenty of opportunity in the market for Grab. Grab can continue to grow and compete with GoJek and Sea by using one of both of the following strategies:
Further geographic expansion
Deepening investment in its financial services products
Grab has pursued strategy one very successfully over the past 8 years and has the potential to continue to do so by launching in new markets that have a similar profile to Southeast Asia like Bangladesh, Pakistan or on the African continent. It can do this via acquisition of local players or by launching its service directly. Either way, this approach will be capital-intensive and will require it to raise more capital.
Grab is also pursuing strategy two and financial services are clearly a priority for Grab. Financial services present a rich and untapped market of opportunity for Grab to lean into. Over 50% of the region remains unbanked today and the share of users who take advantage of insurance or investment products is even lower.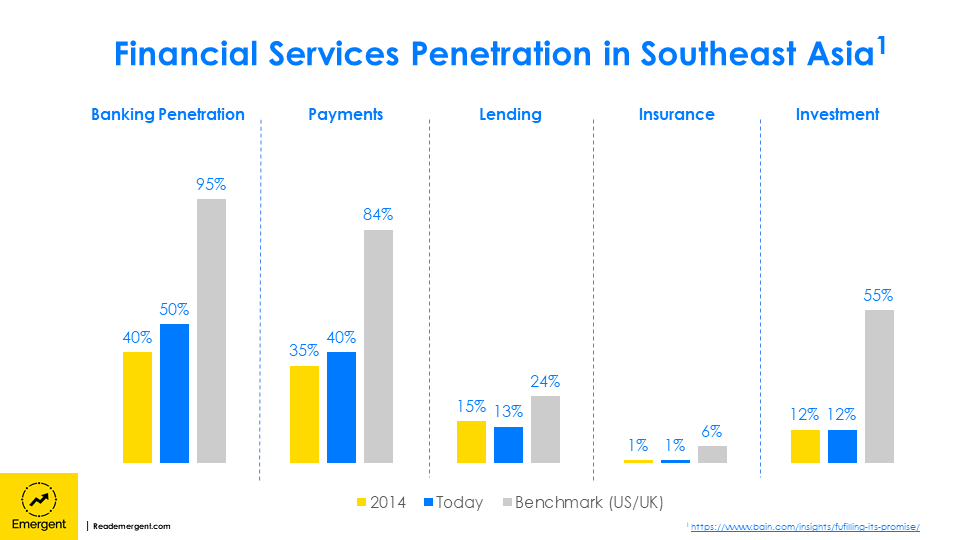 Data from Bain
Grab Financial Group (a subsidiary of Grab) recently raised $300 million in fresh financing to invest in product development and user growth. More importantly Grab received a digital banking license from Singapore in December of 2020. This will enable it to offer a far broader range of financial services to GrabPay users – both consumers and merchants – including lending and investment products. In February of 2020 Grab acquired Bento – a retail wealth management platform – that has been the foundation for the GrabInvest product. Grab's insurance distribution business has also seen exponential growth, distributing over 70 million insurance policies since launch in April 2019.
Overall, Grab's combination of delivery and ecommerce services with a suite of expanding financial services has helped it rise to the top of the delivery and transportation market in Southeast Asia. However, its preeminence is facing significant challenges from the potential merger of its main competitor GoJek with Tokopedia and from regional conglomerate Sea's fast growing ecommerce and financial services businesses. Grab has a track record of facing down strong competitors in the past (Uber) and successfully defeating them.
While phase one of Grab's story was about building and scaling a ride-hailing and delivery network, phase two is clearly going to be about transforming GrabPay into a full-service digital bank in Southeast Asia. The question is, will Grab execute as effectively in financial services as it has in transportation?
This article was originally published in my newsletter Emergent.