This article was originally published in my newsletter Emergent.
The rise of food and grocery delivery startups is a global trend that shows no sign of slowing down. Delivery startups are being founded and growing rapidly in the most unexpected places. One great example of this trend is food delivery startup Jahez.
Jahez is a food delivery startup founded in Saudi Arabia delivering food from restaurants to customers nationwide. Jahez was founded in 2016 and since than has grown rapidly:
3 million users
15,000 freelance delivery drivers
Around $270m in order value processed in 2020 (1 billion Saudi Riyals)
12,000 points of sales across the Kingdom
Processed over 20 million orders to date
Jahez recently raised a $36.5 million Series A round of fundraising – the biggest round of funding ever raised by a startup in Saudi Arabia. The company has stated that it plans to go public on the Saudi Stock Exchange – the Tadawul – in 2021. If Jahez goes public it will be the first Saudi startup to ever become a publicly-listed company and will do so in just five years, far more rapid than the 10-15 years typical of most startups.
Is the rise of Jahez a sign of things to come in Saudi Arabia and the Gulf region?
Product
Jahez's product is similar to other food delivery providers worldwide. It offers a consumer-facing mobile app where consumers can browse local restaurants and food options, pick their items and complete their order on their phone. Consumers can also track their order progress as it is being delivered. Consumers also have the option to schedule their delivery ahead of time. On the restaurant side, Jahez offers a consolidated interface to handle incoming orders – similar to Doordash and other food delivery companies worldwide.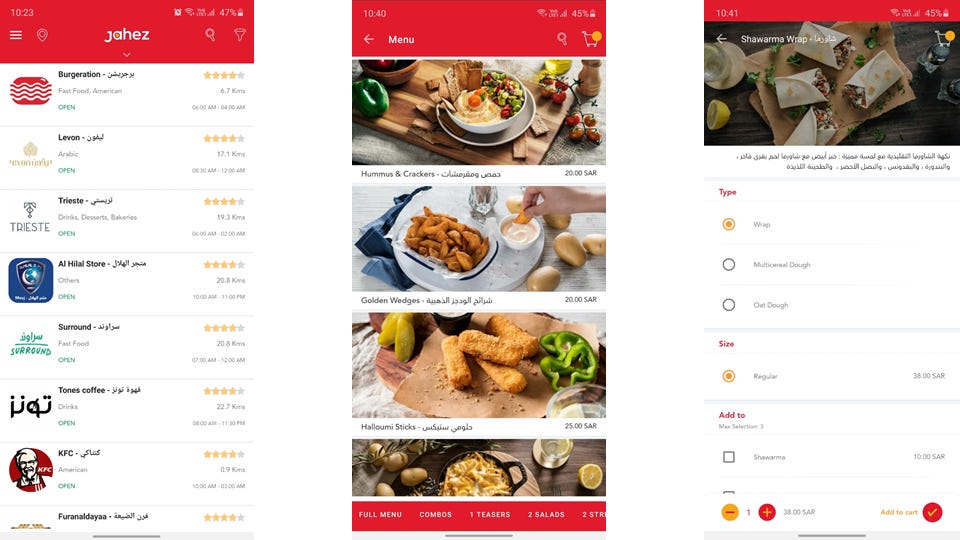 Market
Saudi Arabia is a country with a relatively modest population of 35 million. However, Saudi Arabia's population is quite wealthy with a per capita GDP in terms of purchasing power parity (PPP) of $49,000. This is significantly higher than Indonesia's GDP per capita (PPP) of around $12,000 and India's GDP per capita (PPP) of $7,000, two other countries with numerous food and grocery delivery startups.
The affluent Saudi Arabian population makes it an attractive market for a food delivery startup. Aside from Saudi Arabia's relative affluence its skyhigh smartphone penetration of 97% makes it an extremely promising market for any consumer startup to target.
Overall, the online food delivery market in Saudi Arabia was worth about $500 million in 2020 and is expected to grow at a compound annual growth rate (CAGR) of over 10% to over $900 million by 2026.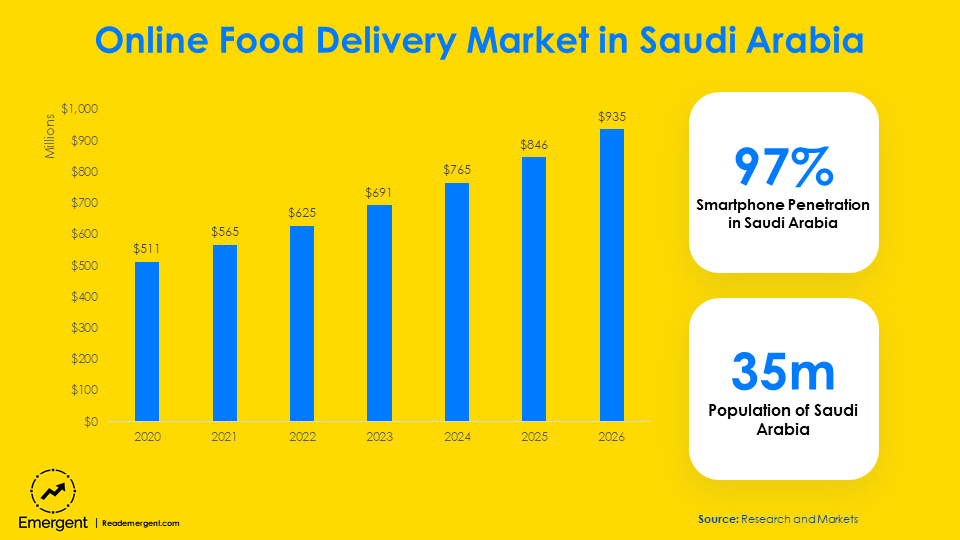 Competition
Jahez is not alone in pursuing the food delivery opportunity in Saudi Arabia. Given that Saudi Arabia is the biggest market in the Gulf Cooperation Council (GCC), the country has sprouted a few startups that are actively pursuing the food delivery market:
Hunger Station and Careem are Jahez's main competitors in Saudi Arabia as both are owned by large international technology companies with ample resources. Hunger Station is the market leader in Saudi Arabia today and generates over $100 million in revenue per year and available in over 80 cities across Saudi Arabia. Its parent company Delivery Hero also owns Talabat, another food delivery startup active in Saudi Arabia and across much of the GCC. Hunger Station claims to be working with 65% of the restaurants in Saudi Arabia, an impressive level of market penetration.
Careem Now is the food delivery arm of ridesharing startup Careem which Uber acquired for $3.1 billion in 2019. Careem Now was first launched in Saudi Arabia in 2019 and has been expanding in the country since then. While Careem's market share is small compared to the likes of Hunger Station and Talabat, its recent business model shift is challenging all the players in the market. Careem recently announced that it was introducing a commission-free model for restaurants in the UAE. Instead of charging restaurants a steep commission per order (as high as 35% on some food delivery platforms) it will now be charging them a monthly subscription fee. This shift represents a huge challenge to Jahez and other players in the market and could see Careem aggressively grow market share in the months to come.
Growth Opportunities
Despite facing strong competition from market leader Hunger Station and other players such as Careem and Talabat, Jahez is pursuing several strategies to continue its rapid growth in the food delivery category and beyond. These strategies include:
Expansion into grocery delivery
Vertical integration into dark kitchens
Geographic expansion across the GCC
Jahez made clear in press coverage of its recent $36.5 million fundraising round that it was using this new war chest of capital to pursue all three of these growth strategies.
The grocery delivery market is a logical first expansion strategy for Jahez thanks to its existing network of over 15,000 delivery drivers working across 20 cities in Saudi Arabia. Delivering groceries is not that different a task from delivering food. The retail grocery market in Saudi Arabia was estimated to be worth $28 billion in 2017 (the most recent estimates available), representing a far larger potential market than the current online food delivery market in Saudi Arabia.
Jahez can pursue two potential models in the grocery delivery space. It can have drivers physically go to supermarkets to buy the goods a customer requests like Uber and DoorDash do. Alternatively, it can vertically integrate and create its own central warehouses or micro warehouses to handle fulfillment of groceries like Getir is doing across Turkey and Europe. Expanding into grocery broadens the number of competitors Jahez is competing against including other startups as well as legacy retailers that are seeking to add delivery as a new service offering for their customers.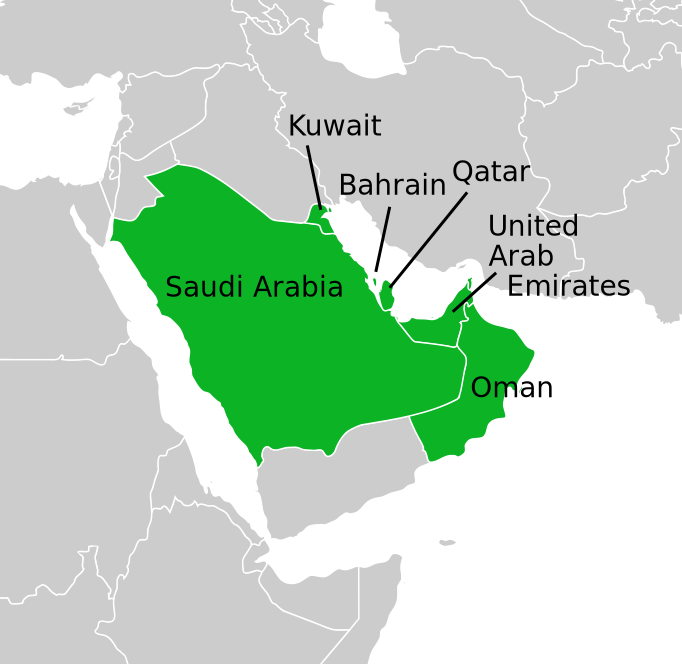 Vertical integration is a strategy Jahez can also pursue in the food delivery space by launching its own "dark kitchens" – a delivery-only restaurant. This strategy is being pursued by food delivery providers worldwide such as DoorDash, Uber and Grab. By owning and operating these dark kitchens Jahez can increase its revenue and improve its margins on each transaction as well as have more granular control of the customer experience. The company has made it clear dark kitchens are an important part of its growth strategy in years to come.
Finally, geographic expansion is on Jahez's roadmap in the coming years and a major motivator for its $36.5 million fundraise. The 5 other countries that make up the GCC are logical markets to expand into given the ease of doing business in the region as the GCC is an economic union. In addition, the cultural similarities and common language across the GCC will make it easy for Jahez to hire in the region as well deal with any regulatory requirements.
Jahez is one of many global startups including the likes of Uber, Deliveroo, Grab and Getir, making food and grocery delivery go mainstream. However, the company's rapid growth in Saudi Arabia, regional ambitions and stated desire to go public this year set it apart from many of these companies. If Jahez successfully executes on its vision and becomes a public company this year it will be an inspiration for entrepreneurs in Saudi Arabia as well as other underestimated startup markets worldwide.
---
This article was originally published in my newsletter Emergent.