This article was originally published on my newsletter Emergent.
Fintech is one of the top two most active areas for tech entrepreneurship and venture capital financing in emerging markets. The financial systems built in the West over centuries – both consumer-facing and business banking – are far more robust in comparison to the limited access to financial services that most ordinary people face in countries across Africa, Asia and Latin America. This gap has attracted some of the best and brightest entrepreneurs who have built huge startups like Nubank, Flutterwave and Grab and many more.
In Africa, one of the earliest fintech startups to be founded was Interswitch, a Nigerian fintech unicorn. Interswitch is a payments company offering a broad range of transaction processing services as well as a range of financial services to businesses and consumers across a number of African countries. Interswitch was founded in 2002 and is an overnight success story 18 years in the making. Over nearly two decades Interswitch has grown to significant scale: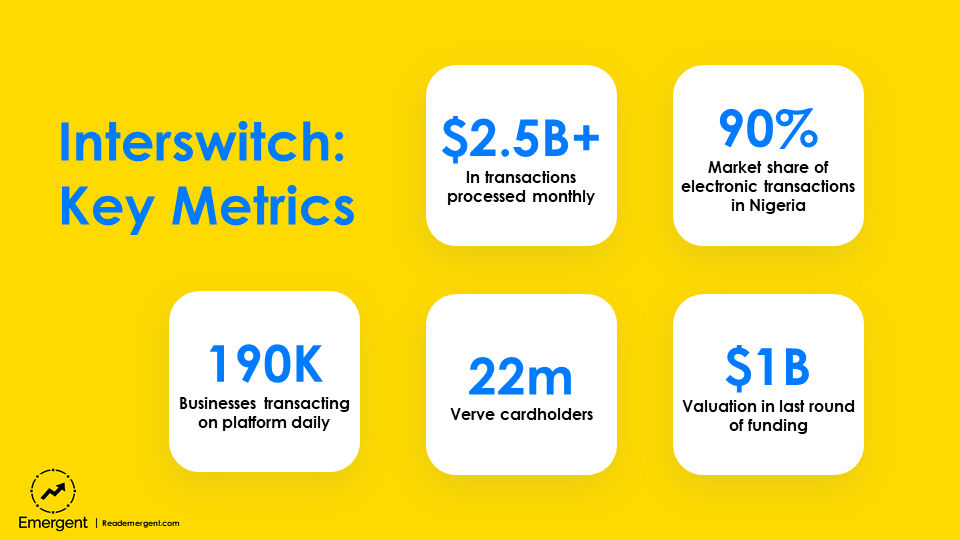 Products
Since its founding Interswitch product suite has grown to encompass a wide range of payment and financial services for its customers. Interswitch product offerings are clustered across three major categories:
Transaction processing and enablement: Offering transaction switching, payment disbursements, mobile financial services and more for businesses to broaden their payments capabilities
The Verve Card Network: Africa's largest card network with over 22 million Verve credit card holders
Quickteller: A hybrid consumer and business-facing suite of financial services
Payment processing is the core of Interswitch's business and around 200,000 businesses transact on the Interswitch platform daily. Its payment processing service is integrated with multiple global card schemes including Mastercard, Visa (which has invested $200m into the company) and Discover. Incredibly, Interswitch has over 90% market share in electronic transactions processing in Nigeria today according to Moody's.
The Verve Card network is a logical extension of Interswitch's underlying transaction processing infrastructure and has been a resounding success since its launch. Incredibly in 2013, it was reported that 18 million out of the 25 million cards in circulation in Nigeria at the time were Verve cards. Today the Verve card is accepted in 21 African countries and 185 countries worldwide.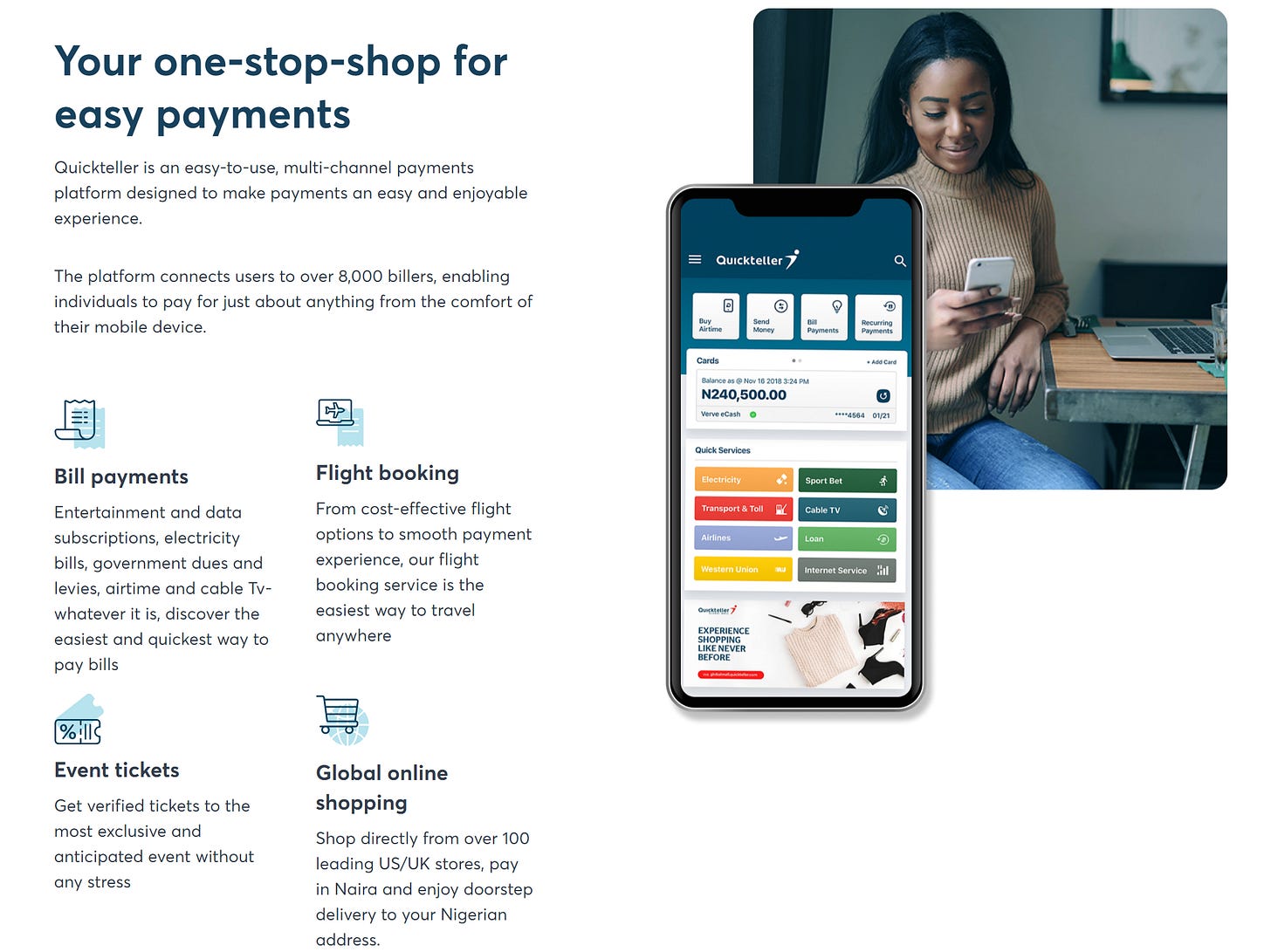 Finally, Interswitch launched Quickteller as the third major component of its business. Quickteller is both a consumer-facing payments platform (via a mobile app) and a business platform. Through Quickteller Loans consumers can access to credit and through Quickteller Mall consumers can shop online and buy global goods in their local currency. Quickteller for Business was launched in response to COVID-19 and offers a broader suite of tools for businesses to handle payments and grow their business including anything from disbursements to value financing.
Market
Nigeria – as I've written before – is a young country with an extremely fast-growing population. Of Nigeria's 200 million people over half are under the age of 19 and 150 million of this 200 are internet users already. Nigeria's population is forecast to quadruple by 2100 to 800 million people, making it by far one of the most populous countries in the world.
Nigeria's population growth – if properly managed – can be a huge demographic dividend to Nigeria, especially as its economy begins to digitize. Today, digital payment volumes are picking up rapidly in Nigeria helped by the proliferation of smartphones and companies working to make it easier for merchants in Nigeria to accept digital payments. The volume of digital payments is only going to continue to soar, benefiting Interswitch in particular thanks to the electronic transaction processing infrastructure it has built.
Growth Opportunities
Compared to its competition Interswitch is a more mature business and the next phase of its growth will likely involve a long rumoured initial public offering (IPO). Interswitch's prospective IPO has been reported for years dating back to 2016 but has continued to be delayed, including being delayed in 2020 due to COVID-19. Techcrunch initially reported that Interswitch was set to IPO in 2020 on the London and Nigerian stock exchanges for about $1 billion, or 2x it's revenues at the time. This is a very conservative valuation given the spate of recent tech IPOs in the last year.
Through an IPO Interswitch will be able to raise fresh financing to further fuel its growth and lower its cost of capital compared to staying as a private company. It is likely to reinvest this money into further geographic expansion. Interswitch is heavily concentrated in the Nigerian market where it generates about 90% of its revenue. However, the Nigerian market – despite being Africa's largest – only scratches the surface of the opportunity for digital payments in Africa and Interswitch should use any proceeds from its IPO to aggressively expand to new countries on the continent.
Interswitch is also likely to invest proceeds from its IPO to deepen its Quickteller platform. It's consumer-facing app is slowly evolving towards looking more and more like a "SuperApp" putting it in direct competition with JumiaPay and modeled after Chinese SuperApp's like Meituan. Interswitch – unlike Jumia – is not an ecommerce company and could work with a range of third-party ecommerce platforms and delivery providers and integrate them into Quickteller to quickly create a robust SuperApp without having to make expensive capital investments in building its own supply-chain and delivery capacity.
The opportunity for Quickteller is equally promising on the business side. African small and medium-sized enterprises need access to capital, investment and more financial services to continue to grow their businesses. The traditional banking sector remains very conservative and the SMB segment is heavily underserved. Interswitch specifically identified the role SMBs play in the Nigerian economy, contributing 48% of GDP, in its recent press release announcing the launch of Quickteller Business. This clearly illustrates their focus on this segment with Quickteller Business.
Interswitch's dominance of the Nigerian market, control of the largest card network in Africa and prominence in Nigeria make it a compelling business to keep an eye on in the years to come. Despite rising competition, Interswitch is well placed to compete against upstart fintech competitors thanks to its maturity as a company and strong ecosystem of consumers and businesses actively transacting on the platform.
This article was originally published on my newsletter Emergent.