This article was originally published in my newsletter Emergent.
While Africa saw VC funding soar to $5 billion in 2022, this funding has been far from evenly distributed across the continent's 54 countries. In fact the majority of VC investment in Africa has been concentrated in English or Arabic-speaking nations such as Nigeria, Egypt, Kenya and South Africa. On the other hand Francophone Africa – home to about 150 million people – hasn't received as much love from VC investors and has consistently lagged behind the likes of Nigeria and Kenya in terms of VC funding and startup activity. However in Algeria, where French and Arabic are widely spoken, one company is bucking this trend in style – Yassir.
Yassir – which means "easy" in Arabic – is building a Super App offering on-demand services such as ride hailing, food and grocery delivery, banking and more (similar to Rappi in LATAM and Meituan in China). Often dubbed the Algerian Uber, Yassir was founded by Mahdi Yettou and Noureddine Tayebi in 2017. 
Since its launch in 2017 Yassir has hit some significant milestones including:
Launched in Algeria, Tunisia, Morocco, South Africa, Senegal, France and Canada
Incredibly a reported 3 out of 5 on-demand activities in Algeria are carried out on Yassir's platform.
Crossed an impressive 8 million users and 100,000 partners on its platform
Currently live across 45 cities
Raised over $200 million in venture capital financing
Became the first Algerian startup to be accepted into Y Combinator
In November 2022, Yassir raised a huge $150M Series B round of funding from prominent global investors to become the most valuable startup in North Africa and one of the highest valued companies in the MENA region.
Product and Business Model
Yassir, like other Super Apps around the world, offers a broad range of services including ridesharing, food / grocery delivery, and financial services through which users can pay, save and borrow digitally. Yassir's main products include:
Yassir Go: A ridesharing platform modeled off of Uber and Careem
Yassir Express: A grocery and food delivery service focused on delivering to users in under 30 minutes
Yassir Market: An Amazon-like ecommerce portal connecting buyers and sellers similar to Tokopedia (see our breakdown here)
Yassir Business: Offering transportation services to businesses as well as experimenting with fleet management products
Yassir's initial services have been all built around the themes of transportation and delivery. Yassir's next major product push is to enter financial services, a playbook pioneered by Southeast Asian Super App Grab (read our breakdown here). The motivation and rationale to enter financial services is clear: it's a huge gaping gap in the market, something true of most emerging markets globally. Somewhere between 50 – 70% of Africans are unbanked varying slightly country to country and region to region. The lack of access to financial services for consumers and businesses slows down economic growth, increases the dangers posed by unexpected expenses and generally makes the movement of money inefficient across the economy.
In some ways Yassir is already a fintech company as payments are a core part of its platform where consumers pay for a range of services online or in cash and drivers and merchants are paid by the platform for delivering services. In fact, Yassir's large user base and network of over 100,000 merchants and drivers gives it a strong foundation to build a series of financial products on top of. Yassir leverages this network for its payments services, offering top wallet provision and deployment of drivers and couriers as money agents.
This large install base positions it at a significant advantage versus many pure play fintech companies who have to invest enormous amounts of cash acquiring customers. In fact, it's still unclear if the unit economics of pure play fintech platforms in emerging markets can be sustainable. For example, McKinsey estimates that fintechs in Africa spend as much as $20 acquiring each customer to only generate $7 of revenue from that customer.
Yassir's core Super App business has allowed it to build a large install base while enabling it to generate revenue from a consumer across delivery, ridesharing and a range of other day-to-day services. This improves the unit economics of servicing an individual user and allows it to potentially offer new financial services to users in a sustainable manner with positive unit economics. In many ways embedded financial services are a superior method than pure play direct-to-consumer financial products when it comes to tackling underbanked populations in emerging markets.
Competition
Ridesharing and Super Apps are some of the first technology-enabled business models to go global, starting in the 2010s and picking up dramatically in the last few years. Yassir is not alone in seeing Africa as a lucrative market and faces competition from the likes of Uber, Bolt, Glovo and Gozem.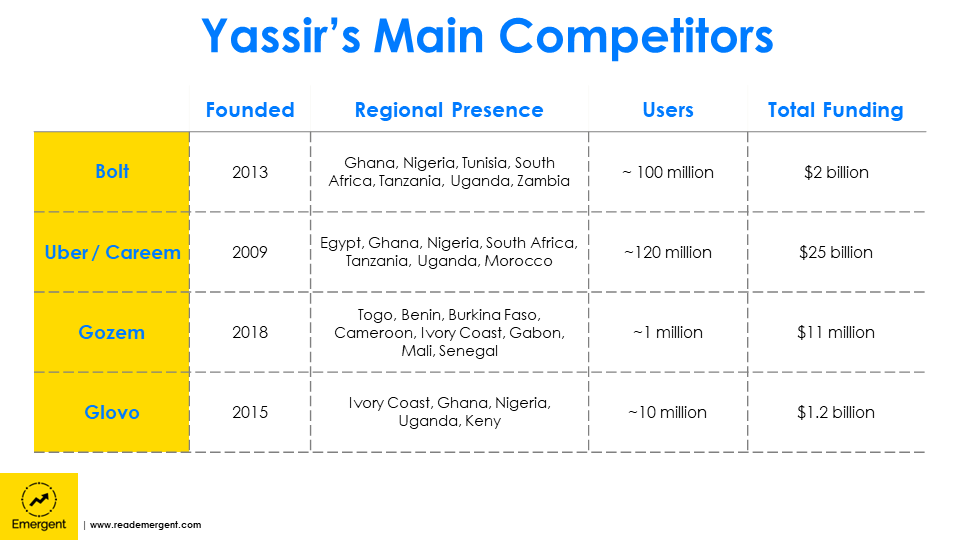 Uber first arrived in the South African market in 2013 and by May 2022 the company announced hitting the milestone of 1 Billion rides and over 10 Billion kilometers driven across all its markets in Africa. Its food delivery arm UberEats – which launched in 2016 in South Africa with just 1,000 restaurants – now serves over 8,000 merchants across 36 cities in South Africa and Kenya. It is available in several South African cities as well as in Kenya.
Another major competitor is European ridesharing and food delivery giant Bolt, formerly known as Taxify. Bolt arrived in South Africa in 2016. While Uber has been mainly focused on major cities across Africa, Bolt's expansion strategy includes specifically focusing on smaller cities and now operates in more African cities than Uber. Bolt's food delivery arm was launched in Johannesburg in October 2021. South Africa is Bolt's second largest market after Europe and the company intends on ramping up growth for its ride-hailing and food-delivery services in South Africa, rather than launching other verticals in the market. Currently, it has an impressive customer base of 40 million in Africa with 700,000 drivers in about 90 cities across 8 countries on the continent. Bolt is further trying to solve the issues of many drivers simply not owning a vehicle by offering vehicle financing since 2021 through its partnerships with Nigeria's Sterling Bank and FlexClub, something Kavak has been pioneering in other markets.
One of the only indigenous competitors to Yassir is Gozem, a Super App launched in Togo in 2018. Gozem now operates in 8 countries across West and Central Africa and has more than one million downloads and 7+ Million trips since its launch. In 2021, the company secured a US$5 million funding round, part of which has been deployed to step up its Super App model and offer a suite of services including transportation, e-commerce and financial services in Francophone West and Central Africa. It is mainly present in French-speaking Sub-Saharan Africa, and offers services to consumers, transportation providers, and businesses. It currently provides various on-demand transportation, delivery, and cashless payment solutions in one app to hundreds of thousands of users in the region.
Finally Glovo, similar to Bolt, is another European unicorn startup with its eyes set on Africa. By late 2021 the company was already present in 40 cities across Africa with more than 300,000 users, 8,000 restaurants and 12,000 couriers on the platform. At the time the company committed to deploying another $50 million into its Africa expansion plans. Unlike some of Yassir's other competitors Glovo is more focused on quick commerce and ecommerce delivery to enable efficient and effective last-mile logistics for restaurants, small retailers and online sellers.
Growth Opportunities
In about half a decade Yassir has managed to create a network of 8 million users and become one of the most well-funded startups in Africa and MENA. While it started with a focus on Algeria, the company quickly moved to expand geographically after its $30M Series B round. In March 2022, Yassir announced its expansion plans into West African countries and the creation of a technology hub in Europe. With this technology hub (based out of Germany) the company aims to attract the best global talent to give it a competitive edge. Ths venture into West Africa and creation of a technology hub, will further spur its growth and consolidate its position in the countries where it is already present, or so that is what the founders believe. In November 2022 the company raised an enormous $150 Series C round of funding giving it ample firepower to fuel expansion.
The company has two clear expansion paths ahead of it:
Further geographic expansion
Building a broad suite of financial services
The case for further geographic expansion is clear. With much of the company's technology infrastructure built already over the past few years, expanding into new geographies simply requires new payment integrations as well as funds dedicated to operations and marketing. Given many countries in Africa are relatively cheap to operate in, the company's ample balance sheet makes further geographic expansion likely. This will make Yassir harder to compete with over time.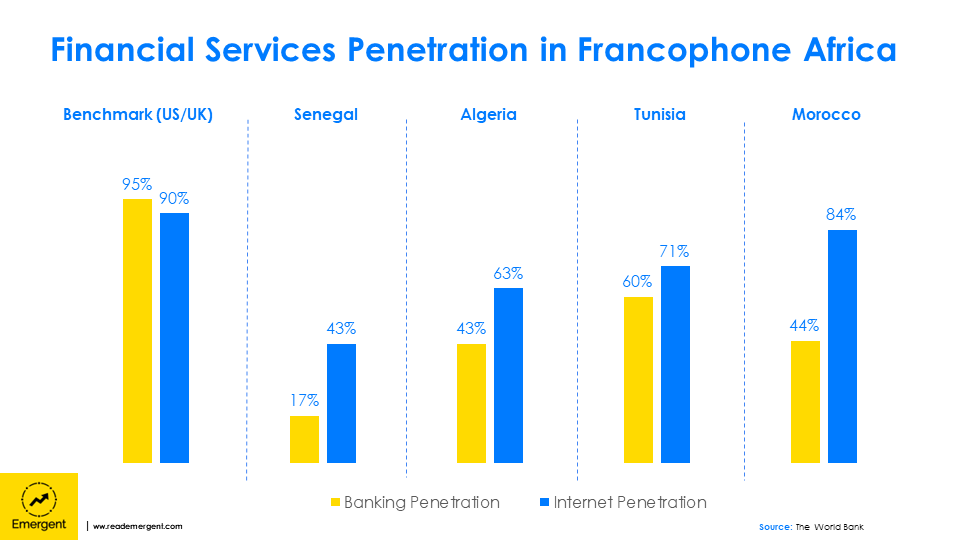 The other strategy is to use its user base and existing business as a platform to launch a robust suite of financial products catering to users and businesses. This is something the company has already begun and clearly articulated as a key part of its future growth plans. However, as noted earlier offering financial service products in emerging markets is an expensive and complex endeavor. The company will have to navigate very different regulatory environments across its different markets, invest in localizing payments and data servers in the countries and much more. If the company aspires to expand into lending it will have to lend off its balance sheet while it tests the quality of its underwriting over time. Lending to the unbanked – while appealing as a market opportunity – has proven to be much harder than many people expected over the past few years, with Nubank being the main exception.
Yassir is a fascinating company fighting the battle to put Francophone Africa on the map for startups and VC investing. The company has taken the Super App playbook that has proven itself so spectacularly in Asia and has aggressively deployed it across multiple markets in Africa. The company's next chapter will likely see further geographic expansion as well as an aggressive plan to launch and test financial products across its multiple markets. With a warchest of $150 million it will be worth watching how the company evolves in the years to come.
This article was originally published in my newsletter Emergent.