This article was originally published in my newsletter Emergent.
If there is one term that has gone from a niche business term to a mainstream buzzword over the last 3 years it has been "supply-chain." The impact of the COVID-19 pandemic as well as growing geopolitical tensions in Europe and Asia has left the world grappling with a multi-faceted supply-chain crisis for much of the last 3 years. The need for efficient and digitized supply chains is increasingly pressing, especially as ecommerce and just-in-time delivery gain popularity and put growing pressure on the global logistics industry. One company squarely focused on the challenge of digitizing logistics and international supply-chains is Mexican unicorn Nowports.
NowPorts is a Mexican logistics tech company digitizing the import and export experience for Latin American companies. It was founded in 2018 by Alfonso De los Rios and Maximiliano Casal as the first digital freight forwarder shipping ocean containers to and from Latin America. 
NowPorts automates the entire supply chain to enable movement of client cargo via maritime, aerial and ground transportation. To enable this, NowPorts collaborates with leading airlines, shipping, railroad, and trucking companies. It also provides a BI platform, inventory financing, merchandise insurance, and customs coverage.
Nowports is headquartered in Monterrey, Mexico but operates across Chile, Colombia, Panama, Brazil, Peru, Uruguay, and the United States with a total of 11 active offices. It is backed by investors like Softbank, Tiger Global Management, Base10 Partners, Y Combinator and others.
Since its founding NowPorts has also managed to:
Product
Nowports has quickly built a robust platform touching multiple parts of the logistics process. NowPorts handles cargo for clients in the form of maritime shipments, air freight and inland transportation. The company integrates technology into the import and export processes, granting clients agility, accessibility and transparency in logistics.
NowPorts product suite includes the following:
Logistics: NowPorts completely manages maritime, air and inland freight for clients in Latin America, the US and Canada. The company works with well-known shipping companies and international airlines, guaranteeing space, competitive prices and timely arrival of merchandise at its destination. For inland freight, NowPorts provides truck or rail, point-to-point or intermodal, national or international services where cargo can be tracked via GPS technology.
Visibility Platform: The company offers a digital hub that gives a shipper visibility across their shipments including locations, status and issues that might arise. Clients can speed up and closely monitor their international trade processes through instant cargo status updates, account statements, and customized insights.
Financing: Nowports provides clients inventory financing by offering credit days for their freight shipping. This enables customers to import more merchandise and pay for it later, improving their cashflows.
Merchandise Insurance: NowPorts provides protection against 3rd-party damage to client cargo's air, sea or ground movement, with the support of international suppliers. It provides both regional and international coverage.
Market
The COVID-19 pandemic and the lockdowns it caused massively disrupted global supply-chains. Whole parts of global supply-chains – such as factories – shut down for weeks at a time causing the world's highly interconnected supply-chain to be disrupted for nearly 2 years. Alongside this rising geopolitical tensions between the US and China and the West and Russia have continued to inspire efforts to restructure global supply-chains and reshore or "friendshore" production.
This period of profound disruption has transformed supply-chain considerations into some of the highest priorities for political leaders and businesses worldwide. More importantly this disruption has renewed interest in digitizing supply-chains to give visibility, realtime alerts and to enable resiliency.
Logistics is a particularly large industry in Latin America thanks to its position as a major exporter of food products and commodities (oils, metals, wood) to the rest of the world anchored by Brazil's key role in the global agricultural market. In 2019 the LATAM logistics market was valued at $542 Billion and is expected to register a CAGR of 6.2% to reach a value of $784 Billion by 2027.
A rapidly growing movement in the US to move production out of China and to other friendly countries is likely to be a huge tailwind for Latin America's exporters and in particular Mexico, NowPorts' home market. Mexico is the second-largest exporter of goods in the world to the United States and stands to benefit the most from this trend. Its membership in the USMCA free trade agreement along with membership in 10 other free trade agreements (giving it access to 45 countries across the world) position Mexico to significantly grow its exports in years to come.
Competition
LATAM's huge logistics market has attracted an array of startups that compete directly and indirectly with NowPorts including the likes of NuvoCargo, Klog, Trackchain and others.
Klog is a digital freight forwarder founded in 2012 by Janan Knust and is NowPorts biggest competitor. The company has offices in Mexico, Bolivia, Peru and Chile and has over 4,500 customers on its platform today. The company seems to have been bootstrapped with limited press and no history of VC fundraising that is public. The company counts marquee companies as customers including the likes of Hugo Boss, Tommy Hilfiger, Guess, Crocs and many more.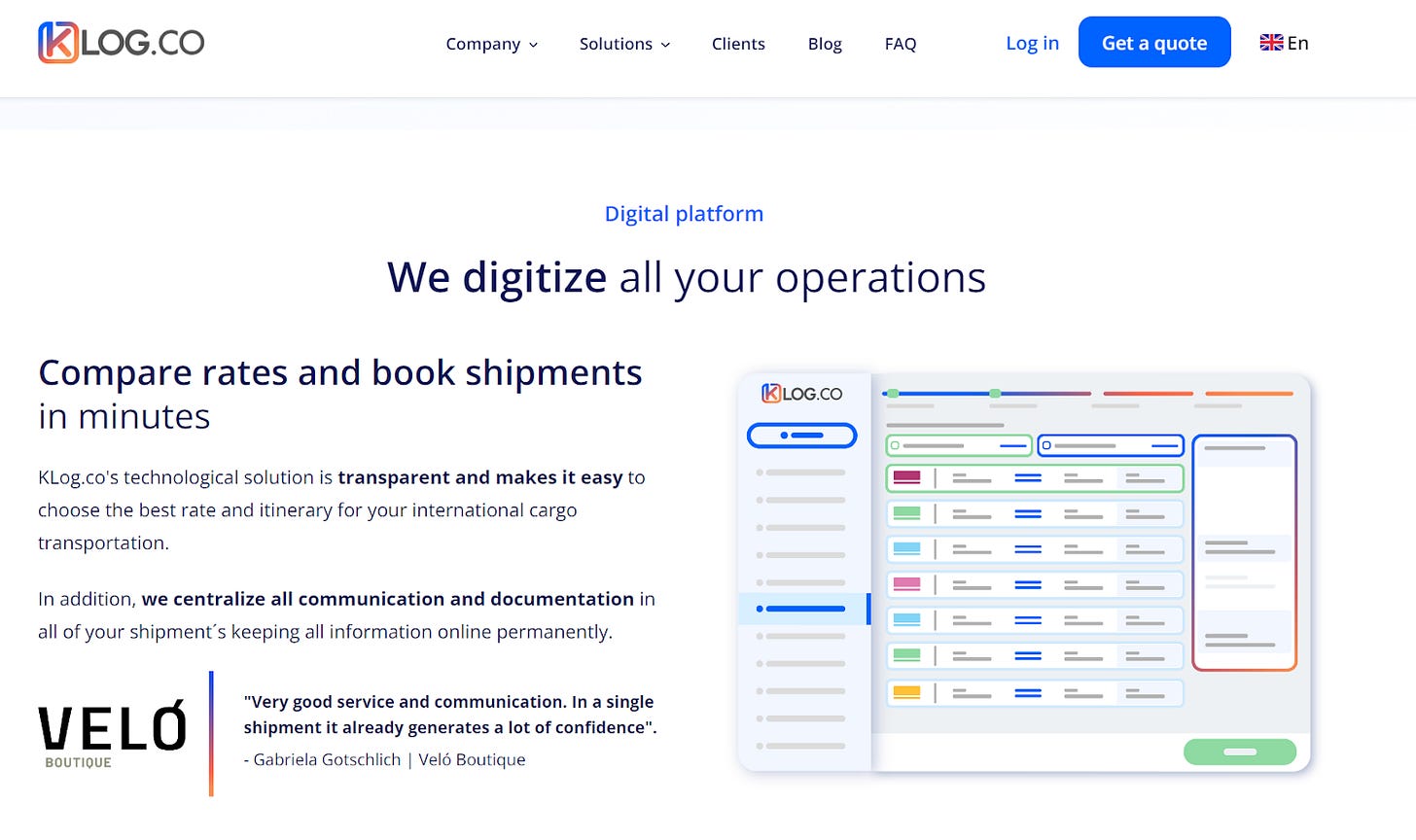 NuvoCargo is an all-in-one digital platform for cross-border trade between USA and Mexico that offers solutions like freight forwarding, customs brokerage, cargo insurance and supply chain financing. It was founded in 2019 by Deepak Chhugani and Sam Blackman and is headquartered in NY, USA. Since the beginning of operations Nuvocargo has been growing its revenues by about 30% month over month. Over the years it has managed to raise $37.8M in funds and attain a valuation of $180M.
TrackChain offers a platform for managing both shipper & carrier operations and is focused on trade between the US and Mexico. It provides services like freight quoting, booking, dispatch management, capacity management, load matching, contract negotiations, shipment tracking, workflow management, and many more. It was founded in 2019 by Eduardo Narvaez and Hugo Alvarez and is also headquartered in Monterrey, Mexico. The company has raised $1.8M in funds to date.
NowPorts focus on shipping and freight forwarding from day one has positioned it strongly amid growing competition from other logistics startups. Although 90% of the world's trade is carried by sea, there are multiple challenges involved with shipping freight by sea including delays, lack of realtime visibility and higher costs. NowPorts is the first digital freight forwarder shipping ocean containers to and from Latin America.
Every year about 50 million containers are imported and exported from Latin America annually. Unfortunately, close to half of them are either delayed or lost due to human errors such as miscommunication or mismanagement. Nowports enables clients to keep track of each container through its digital management software and the platform can reduce delays by as much as 40%.
Growth Opportunities
NowPorts started by focusing on digitizing freight forwarding but over the years has expanded its product suite to include inventory finance, cargo insurance and more. The company has managed to successfully ride the tailwinds around logistics digitization over the last few years and these tailwinds are only set to strengthen in the years to come. The company has plenty of room to grow in LATAM's large logistics market in the years to come.
Beyond simply growing in its existing markets the company has a few potential growth paths including:
Expanding outside Latin America
Expanding its financial service offerings
The problems that NowPorts solves related to container shipping are not unique to Latin America and are global in nature. The product suite the company has built across digital freight forwarding, realtime visibility, financing and insurance can help deliver value in other parts of the world. Despite having years of growth potential ahead of it in its existing markets the company may already be dabbling with expanding its footprint globally to start to tap into the global opportunity. The company recently opened an office in Miami, helping position it on either side of a major trade corridor between the US and Latin America. The company already has offices in Vietnam and Hong Kong as well.
NowPorts can expand globally by following the import and export flows from Latin America. China is already the largest trading partner of most countries in Latin America and when the time comes NowPorts can expand more aggressively into Asia and seek to digitize both sides of the import and export flow from Latin America.
The other potential growth path for NowPorts is to continue to deepen its embedded fintech offerings. NowPorts' inventory financing tool was first released in 2021. This tool enables customers to acquire merchandise for import and pay for it later. Clients can get faster financing with Nowports since the company can use its shipping history and preloaded information to approve them. In general businesses in emerging markets study to access credit and this constrains both their own growth and that of the wider economy. NowPorts embedded fintech products are a strong hook into its ecosystem for new potential customers.
Overall, NowPorts has positioned itself to ride several major macro tailwinds and executed well over the last few years. The company has barely scratched the surface of the $500 billion+ LATAM logistics market and has years of potential growth ahead. As global supply-chains are restructured, LATAM stands to benefit from the nearshoring of manufacturing from Asia. Exports from Latin America are likely to see continued strong growth over the next decade. NowPorts is well placed to be a major player in the logistics tech industry globally. The best is yet to come.
This article was originally published in my newsletter Emergent.