This article was originally published in my newsletter Emergent.
In urban India – the world's most populous country – one of the biggest day-to-day pain points is congestion. In fact 3 of the top 10 most congested cities in Asia are in India (Bengaluru, Pune, Delhi) including the most and third-most congested city. India's huge population of 1.4 billion and significant urban congestion problem has attracted the attention of entrepreneurs across the nation who sense a major opportunity.
While mobility startups such as Uber and Ola have flooded the Indian mobility market with more than a million cabs in the past decade, two-wheelers (motorbikes) and three-wheelers (rickshaws) remain a more popular transportation solution in urban cities. They are far more affordable and effective as they can zip through traffic faster. In fact in 2017 India was named the world's biggest 2-wheeler market with 17.7 million units sold that year.
Thanks for reading Emergent! Subscribe for free to receive new posts and support my work.
Subscribed
In 2015, Indian startup Rapido was born as India's first and fastest-growing bike (motorbike) taxi aggregator. Unlike its major competitors Ola and Uber the company only operates in the 2 and 3-wheeler categories. In recent years, both Ola and Uber have also expanded to two-wheeler and three-wheeler categories.
Rapido was founded by Aravind Sanka, Pavan Guntupalli and Rishikesh SR and is headquartered in Bangalore. It is backed by investors like Indian food giant Swiggy, Westbridge Capital, Nexus Venture Partners, Skycatcher, and India Technology Fund.
Since its founding, the company has managed to achieve enormous scale:
Product
Rapido started as a provider of bike taxi services but since has expanded to provide auto-rickshaw (3-wheeler) services, third-party logistics and an employee travel management service. The company's mission is to reduce the number of vehicles on the road by bringing together people wanting to travel in a similar direction. Its target audience mainly comprises commuters looking for convenient, safe and affordable public travel options in their day-to-day lives.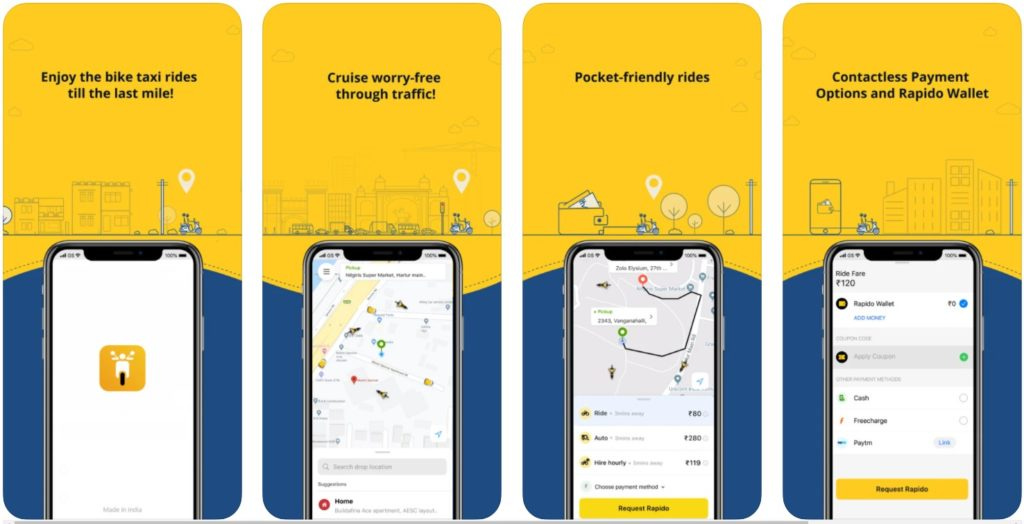 Rapido's products and services include:
Ride-hailing app: Through the Rapido mobile app, customers can book a bike or auto-rickshaw, and those looking to be drivers can sign up to be "captains." For the customers, Rapido offers convenient doorstep pickup, affordability with no hidden costs, and fast commute as it is easier for 2 and 3-wheelers to zip through traffic. For the captains, Rapido helps generate rides, offers insured rides with accidental coverage and medical benefits and redeemable earnings that can be transferred from Rapido wallet to a captain's bank account directly. Rapido charges its drivers a fee of 20% of the entire fare.
Rapido Store: An intercity logistics service offered to both offline and online businesses to enable them to deliver products to consumers' doorsteps. Rapido helps businesses overcome the manpower and cost challenges involved with offering last-mile delivery. Merchants can track all their deliveries through a dashboard.
Rapido Corporate: Through this B2B partnership, Rapido offers organizations an employee travel management system. A central 'Corporate Console' allows the organization to add a corporate wallet and also add employees to the console. Employees book their own cashless rides and fare gets paid through the corporate wallet. Customers are provided consolidated expense statements as well.
Market
In 2020, the automotive and transportation sectors were among the hardest hit as lockdowns restricted mobility across the world and people turned to personal means of transport. India was no different, with mobility via public transport falling 65-70% in India's financial heart Mumbai. Coupled with the regulatory challenges faced by ride-hailing companies, India's mobility landscape has presented difficulties in the years succeeding the pandemic. Despite this in 2022 Rapido managed to grow its valuation 3-fold and scale of operations by over 90%. However the same year, the company's losses spiked 2.6x to achieve this growth.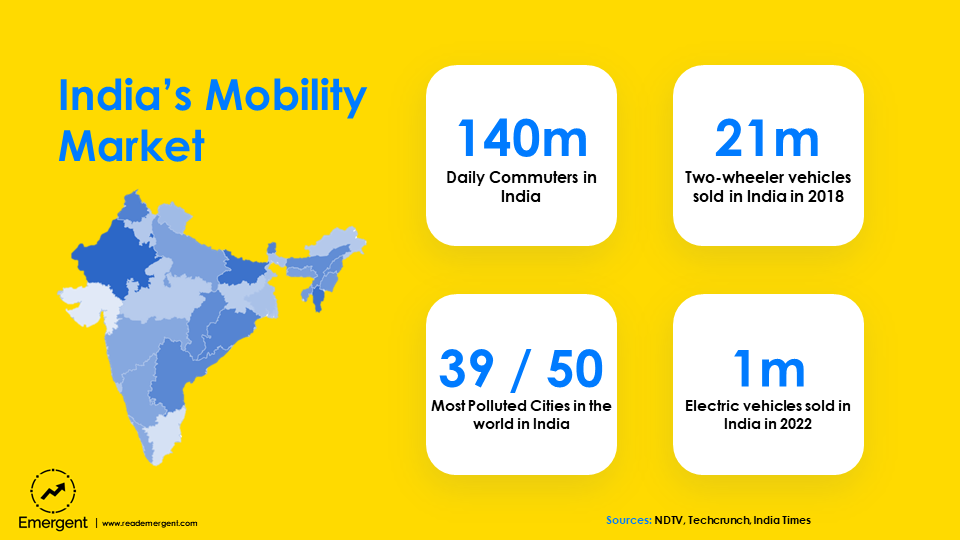 Despite these challenges, the future of the mobility industry in India remains a huge opportunity. There are nearly 140M commuters in India on any given day, and a 2-wheeler is the popular choice for most Indians with 33% using a 2-wheeler in their commute to work. The industry has immense room for growth. In addition the increasing penetration rate of smartphones in India (estimated to reach 96% in the next 2 decades) is expected to fuel this trend of on-demand ride hailing services for decades to come. In recent years, there has also been a surge in e-bikes with sales of e-bikes expected to rise from less than 0.5% two years ago to 50% by end of 2025. Overall, India's bike taxi market is forecast to be worth $1.4B by 2030.
However, in the short-term Rapido has been in the bullseye of regulators across India who are cracking down on the company. India's capital Delhi recently banned bike taxi services provided by Rapido as well as Ola and Uber due to the company lacking the right legal licensing. Similarly Rapido was recently banned in the entire state of Maharashtra by the Bombay High Court due to a similar lack of licensing. Finally Rapido has suspended bike taxi operations in Pune as well recently. It's clear that regulators are cracking down on bike taxi services and Rapido will have to explore how to adequately license itself before it can restart operations in these major cities.
Competition
The huge market for commuters and mobility services in India have attracted a range of competitors including Uber, Ola, Vogo and many more.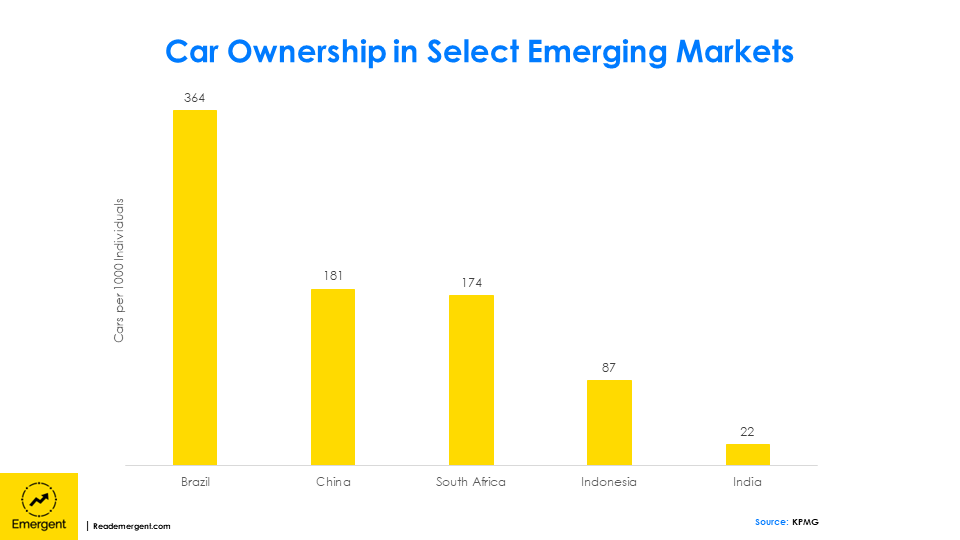 Uber began providing ride-hailing in India in 2013 with its headquarters in Mumbai. In 2015, the company first launched UberAuto in India followed by bike taxi services called UberMoto in 2016. Uber has served more than 95 million riders in India through its platform to date and generated $52 million in revenues in India in 2022 alone. As of 2022, Uber is available in 120+ Indian cities and it is Rapido's biggest competitor in India today.
Ola is a global ride-hailing company based in India that offers a range of mobility services for customers. The company was founded in 2010 by Ankit Bhati and Bhavish Aggarwal, and is headquartered in Bangalore. In 2014, Ola introduced auto rickshaw services and by 2016, it introduced bike taxi service on its platform. Today, its mobile application enables customers to book a range of cabs, auto-rickshaws, bikes, and shuttle buses. The company has raised $5 billion in funding to date and achieved a valuation of $7.3 billion. It has over 125 million users and over 1 million drivers on its platform and is available across 110+ cities.
Vogo was founded in 2016 and offers an on-demand moped and car rental service. Vogo has a dockless model and allows customers to rent mopeds for short one-way trips. Headquartered in Kormangala, India, the company was founded by Anand Ayyadurai, Balakrishnan Padmanabhan and Sanchit Mittal. Vogo is currently available at limited pick-up and drop-off points across Bangalore and Hyderabad and 3 other cities. To date the company has raised $191M in funding to date and has delivered 10 million rides with over 2.5 million registered users on its platform.
Growth Opportunities
Rapido has achieved enormous scale to date with over 25 million customers and 1.5 million drivers on the platform to date. However, the company has only just begun to penetrate its addressable market and the mobility market in India remains an enormous and fast-growing market. Today the company offers its signature 2-wheeler service across 100 Indian cities. In addition, the company also offers its 3-wheeler (rickshaw) service across Indian 26 cities.
To continue its growth the company can pursue several strategies including:
Broaden its logistics and fleet network across India
Invest in offering new electric vehicle services
Rapido's logistics service was originally launched in 2020 and was only available in Bengaluru, Karnataka and Vijayawada with plans to launch in more regions. India's last-mile delivery market is forecast to be worth $7 billion by 2024 and Rapido is positioned to be one of the leading players in this market thanks to its existing network of drivers. India's overall road logistics market (intracity and intercity) is worth $240 billion or about 8% of GDP. By extending its logistics service across the nation Rapido can begin to tap into the rich last-mile delivery opportunity nationwide.
Rapido can extend the service to all the 100+ cities it currently operates in. In April 2022 Rapido raised $180 million in new funding with the stated goal of broadening its fleet network across the country. The round was led by Swiggy – an Indian food delivery giant – which has begun collaborating with Rapido to build an extensive logistics platform.
Aside from expanding its logistics network there is a rich opportunity emerging around the electrification of transport in India. A growing push for electric vehicles is taking off across India and 2022 saw one million electric vehicles sold compared to just 320,000 the year before. The need for electrification of transport in India is clearer than almost anywhere else in the world. India has 39 of the 50 most polluted cities in the world with road traffic a major driver of urban pollution. There is a whole ecosystem of companies taking shape to manufacture, deliver and service electric vehicles in India. In fact, one of Rapido's main competitors Ola has recently begun to manufacture and sell electric mopeds to the Indian market. Given Rapido's position as a leading mobility provider in the nation it would be a waste for the company not to find some way to play in this emerging ecosystem whether by manufacturing, renting or just offering electric transportation services.
Rapido's growth ambitions are lofty and the company hopes to have 50 million customers on its platform by the end of this year. India's market of 140 million daily commuters is only set to grow in the years to come as more young Indians get older and join the workforce. Mobility is an enormous need and opportunity in the Indian market and Rapido has built a leading position for itself in the two-wheeler segment (driving 78% of all its revenue). The company will now need to navigate its legal challenges as well as tap into new opportunities in logistics and electric vehicles to continue its spectacular growth to date. 
This article was originally published in my newsletter Emergent.