This article was originally published in my newsletter Emergent.
One of the most significant structural changes in the global economy has been the rise of subscriptions. This transformation started as a transition from selling software through sales of one-time lifetime licenses to selling software-as-a-service (SAAS) on a recurring monthly or annual basis. Since then the global subscription economy has blossomed to include more than just software with subscriptions increasingly being found in every sector of the economy.
Over the past decade, the subscription economy has grown by over 430%. Globally the subscription economy reached an impressive $275 billion in 2022 and is only set to grow in the years to come. The rise of the subscription economy has opened up a vast range of opportunities for tech companies to help support the entire lifecycle of subscriptions for businesses. One of the largest and most successful subscription management platforms is Indian startup Chargebee.
Chargebee is a recurring revenue management platform that provides subscription and recurring billing tools along with a host of other services for SAAS and ecommerce businesses. It powers their complete recurring revenue lifecycle, from subscription billing to cash, accounting, renewal and more. The company was founded in 2011 by KP Saravanan, Krish Subramanian, Rajaraman Santhanam and Thiyagarajan Thiyagu and was originally headquartered in Chennai, India.
Today the company operates out of its San Francisco headquarters and caters to a range of companies from startups to big enterprises. The company is backed by investors like Tiger Global, Insight Partners, Sapphire Ventures and Sequoia Capital India. Since inception, the company has reached impressive scale:
Raised $468 million in financing to date
Achieved a valuation of $3.5 billion
Acquired 18,000 customers
Supports recurring payments across 150+ countries
Doing an estimated $100m+ a year in revenue
Product
Over the past decade Chargebee has built a vast and comprehensive platform for managing recurring revenue. Today companies trust Chargebee to power their full recurring revenue lifecycle, from subscription billing and invoicing to cash, accounting, renewal, and much more.
Chargebee's vast platform includes four main product areas:
Billing & Revenue Management
Receivables Management
Revenue Recognition (RevRec)
Retention
Billing & Revenue Management
Chargee's Billing and Revenue Management products are designed to cover all of a company's possible billing and revenue management needs. Companies can easily localize the pricing for their product to different regions, localize the privacy and e-invoicing rules across geographies and enable customers to pay in local currency while complying with local tax rules. Chargebee supports 100+ currencies and 30+ payment gateways like Stripe, Braintree, WorldPay and PayPal while covering over 53+ countries through its platform.
Customers can also easily A/B test pricing across geographies and customer segments and easily manage one-time purchases versus subscription revenue. Chargebee also offers rich analytics on customer spending, revenue recognition, churn and much more.
Receivables Management
One of the hardest and most important processes for a company to run is managing its accounts receivables (AR) and collections process. Many companies rely on outdated methods for managing their AR and collections including spreadsheets, manual data entry, manual follow-ups and more.
Chargebee has built a suite of tools to enable companies to better manage their AR and collections. Through Chargebee a company can see a unified dashboard visualizing their outstanding AR, see detailed breakdowns of their AR data, measure and track their finance team's performance and most importantly estimate cashflows based on customer commitments.
Revenue Recognition (RevRec)
While billing a customer and collecting your accounts receivables are critical business functions, once you receive the money correctly recognizing it, accounting for it and filing your financial statements are equally important.
Chargebee offers a suite of revenue recognition tools that work seamlessly with its billings and receivables tools to enable full revenue lifecycle management for its customers. Companies can automate compliance with different accounting standards (such as IFRS-15), correctly recognize different types of revenue and much more.
Retention
Lastly, Chargebee offers a range of tools for customer retention including tools to manage the cancellation experience, capturing cancellation reasons, experimentation tools to improve retention and integrations with other workflow tools. With these tools customers can run different retention experiments to reduce customer churn, increase LTV and improve the overall customer cancellation experience.
Market
SAAS companies have radically increased the prevalence of subscription models across industries. Subscription models can be very beneficial for businesses. For example, Adobe adopted subscription-based services in 2017 and within a year its revenue grew by 77%. By 2023, 53% of software companies are expected to adopt subscription models. Furthermore, 95% of B2B companies surveyed in 2020 offer at least one subscription-based product, while 75% of B2C organizations are estimated to offer subscription services by 2023.
Subscriptions lead to recurring sales and therefore provide predictability in costs which makes it useful for companies. However, this model can also be useful for customers. Rather than being bound to long contracts with businesses, customers can pay smaller subscriptions and maintain flexibility on how long they use the product.
The global SAAS industry is projected to grow from $254 billion in 2023 to $344 billion by 2027. This growth is fueled by "software eating the world" and increasing adoption of public and hybrid cloud-based solutions, especially after the COVID-19 pandemic. By 2021, companies were using an average of 110 SAAS solutions, which represented a 38% increase from 2020 and a 1275% increase since 2015. As the subscription and SAAS markets grow, so does the opportunity for Chargebee to grow its customer base.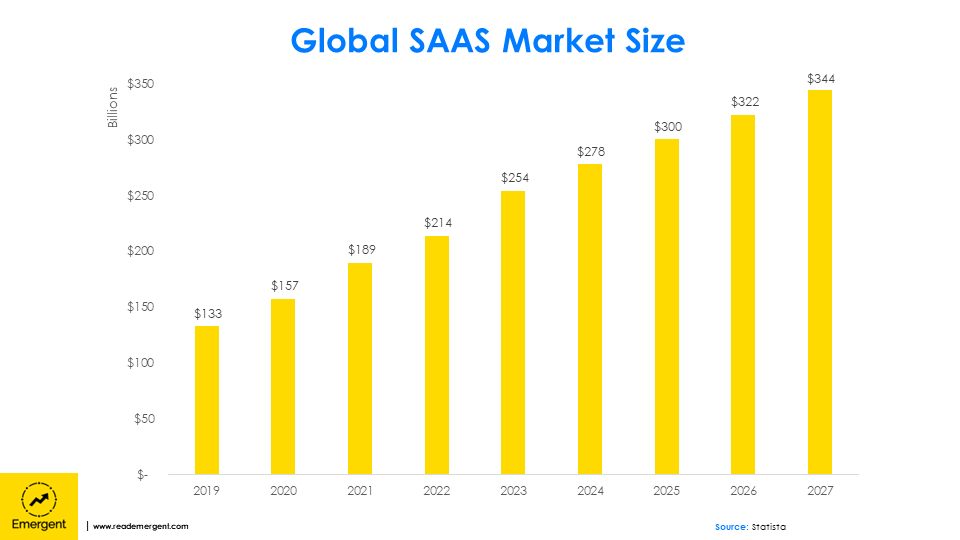 Alongside the SAAS market the market for subscription ecommerce market grew from $72.91 billion in 2021 to $120.04 billion in 2022. Increasingly, consumer-facing products are being sold via subscription exclusively (streaming services, mental health apps, online magazines) or bundled with a subscription (such as Apple One and Google One). Subscription ecommerce includes everything from consumer subscription boxes, digital content subscriptions, and subscriptions to online services. Subscription ecommerce will continue to grow rapidly in the years to come, another strong tailwind for Chargebee to ride over the next decade.
Competition
Chargebee's vast number of features ensures that it faces competition from many players in the SaaS industry. The company's biggest and most direct competitors today include Maxio, Stripe, Zuora, and Recurly.
Maxio offers a subscription and revenue management platform that helps SAAS companies offer flexible pricing and packaging. Support is provided over the entire subscription lifecycle. Its suite of services include subscription management, recurring billing, revenue recognition, analytics, revenue retention, and more. The company was formed in 2022 as a result of a merger between software companies SaaSOptics and Chargify, who were both leading providers of subscription billing management solutions. Maxio is headquartered in Baltimore and currently serves more than 2,300 customers worldwide and manages more than $10 billion in revenue.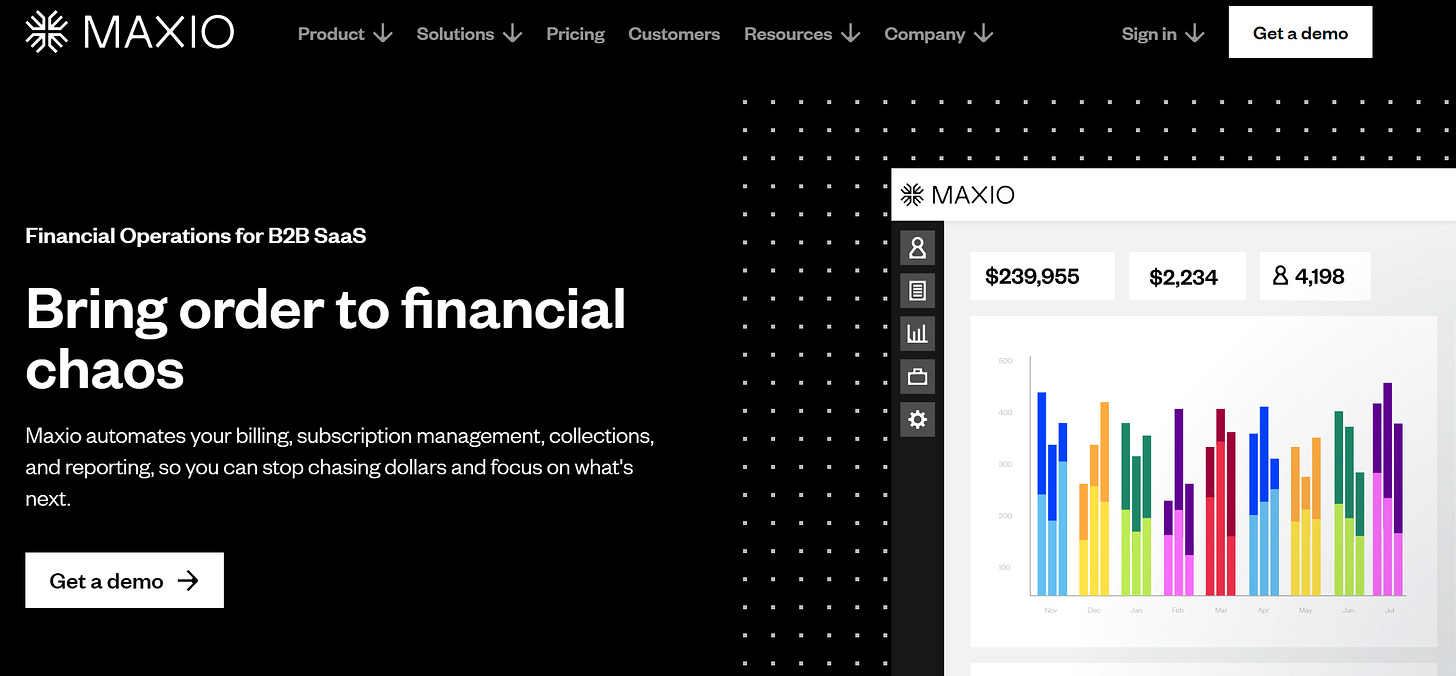 Stripe was founded in 2010 by John and Patrick Collison as a developer-oriented commerce company. Headquartered in San Francisco (California), it helps businesses of all sizes accept online payments. The company combines payments infrastructure with features such as subscription management, fraud prevention, analytics and more. It works closely with leading software companies like Apple, Google, Tencent, Facebook, Twitter and many more. It is currently valued at $55 billion and has raised $8.7 billion in funding to date. In 2022, Stripe recorded $14.4 billion in gross revenue.
Zuora provides cloud-based software on a subscription basis enabling companies in various industries to transform into a subscription business. Its platform, called Zuora Central acts as an intelligent subscription management hub which automates the entire subscription lifecycle. It targets processes like order-to-cash, quoting, billing, collections, analytics, and revenue recognition. The company was founded in 2007 by Cheng Zou, KV Rao and Tien Tzuo and is headquartered in San Mateo, California. The company is publicly traded (NYSE: ZUO) and the company raised $647.5M on its way to going public. In Q4 2022, its total revenue was $103M, an increase of 14% year-over-year.
Recurly is yet another subscription billing management platform which manages subscription revenues for companies in many different industries like digital media, streaming, SaaS, consumer goods, and more. Clients use its platform to manage subscriptions, optimize payment acceptance, automate recurring billing operations and more. The company was founded in 2009 by Dan Burkhart, Isaac Hall and Tim Van Loan, and is headquartered in San Francisco, California. It has raised $39.1 million in funding and processes $1+ billion in payments each month for brands like Sling, Twitch, Paramount, and more.
Growth Opportunities
Chargebee's platform is robust and sophisticated and further expansion into new product areas is not the best use of resources to achieve further growth. Instead, the company should double down on trying to capture market share in the subscription economy market and try to become the clear market leader. Chargebee has two clear growth paths ahead of it:
Global Expansion
Acquisitions
Chargebee has managed to expand its corporate footprint to different continents over the past decade. It was founded in 2011 from the Southern Indian city of Chennai but acquired its first customers in the US and UK by 2013. In 2019, it opened offices in Utah and New York. By 2020, it had opened offices and data centers in Australia and Europe. By increasing its on-ground presence and local sales teams the company can deepen its presence in strategic and fast-growing markets across Latin America, Europe and Asia. Localizing sales team in particular is one of the most important actions for globally-focused software companies to take and Chargebee is early in its global expansion.
On the other hand Chargebee's scale positions it well to be an acquirer for smaller and more specialized companies in the subscription management space. The company has already tested the waters with a few acquisitions. For example, in October 2021 the company acquired Revlock, a revenue recognition software company. Chargebee integrated the company and transformed it into Chargebee RevRec, one of the company's core product offerings today. Similarly, in January 2022 Chargebee acquired customer retention leader Brightback and integrated it into Chargebee's Retention product.
Chargebee's large and global customer base make it an attractive and synergistic acquirer for smaller companies in the subscription industry. Chargebee can acquire more customers, deepen its feature set and enter new geographies via acquisitions. At the size the company is currently at, acquisitions can also be a better use of resources than building new features from scratch and investing in go-to-markets in new geographies. Given that its likely Chargebee will go public in the near future once the IPO market reopens as this will give the company access to much deeper pools of capital to finance further acquisitions.
Overall Chargebee has carved out a strong position as a contender to win the battle for market share across the global subscription economy. As one of the few players in the space built in an emerging market the company has inherent cost advantages and a deeper understanding of global markets than US and European companies in the space. The company's vast platform enable it to service businesses small and large globally. The company is likely to acquire more competitors and go public in the years to come so it will be worth keeping an eye on their journey.
This article was originally published in my newsletter Emergent.