This article was originally published in my newsletter Emergent.
Globally property and real estate is the most significant store of wealth and the largest global asset. The world's real estate is worth over $320 trillion and is more valuable than all global equities and debt securities combined, and worth almost four times that of global GDP. Over the past two decades the huge size of the global real estate market has given birth to a generation of "proptech" companies making different parts of the industry more efficient. While proptech first started in the United States and created companies like Redfin, Trulia, Zillow, Airbnb and more, the industry has increasingly gone global over the past decade.
In Southeast Asia a quiet proptech boom has been underway for the past decade. As of 2023, there are 548 proptech companies operating from Asia, with Singapore and China hosting nearly half these companies. The poster child of Southeast Asia proptech boom is Singapore-based PropertyGuru. 
PropertyGuru is Southeast Asia's leading proptech company that offers a digital marketplace for agents, buyers, sellers and renters of homes as well as suite of data, marketing and home financing services. PropertyGuru was founded in 2007 by Jani Rautiainen and Steve Melhuish and is currently available in Singapore, Malaysia, Thailand, Indonesia, Australia and Vietnam. In March 2022 PropertyGuru listed on the New York Stock Exchange (NYSE) after completing a merger with a Peter Thiel-backed SPAC Bridgetown 2 Holdings Limited at a valuation of ~$1.6 billion
Since inception PropertyGuru has achieved impressive scale:
Raised $670+ million in total funding
Has 1,700+ employees
Receives 40 million monthly visitors
Has partnered with 64,000+ agents in Southeast Asia
Has 3.5 million listings on the platform
Generated $101 million in revenue in 2022
Product
PropertyGuru has built a dominant position as the go-to digital property platform in Southeast Asia. PropertyGuru's product suite has expanded over time and includes:
Property Classifieds Marketplace: A digital platform matching agents, buyers, sellers and renters of property
Mortgage Marketplace: A marketplace to match buyers of property to mortgage products from different banks
Digital Sales and Marketing: Sales and marketing tools for developers to advertise new real estate projects and drive interest and sales
Data and Software Tools: Proprietary real estate market intelligence for agencies, developers and bank
Home Services: A range of home services such as laundry, deep cleaning and pest control
PropertyGuru operates a suite of unique brands in the different markets it operates in. For example in addition to the PropertyGuru brand it operates the CommercialGuru brand in Singapore, iProperty in Malaysia, Batdongsan and Dothi.net in Vietnam and thinkofliving.com in Thailand.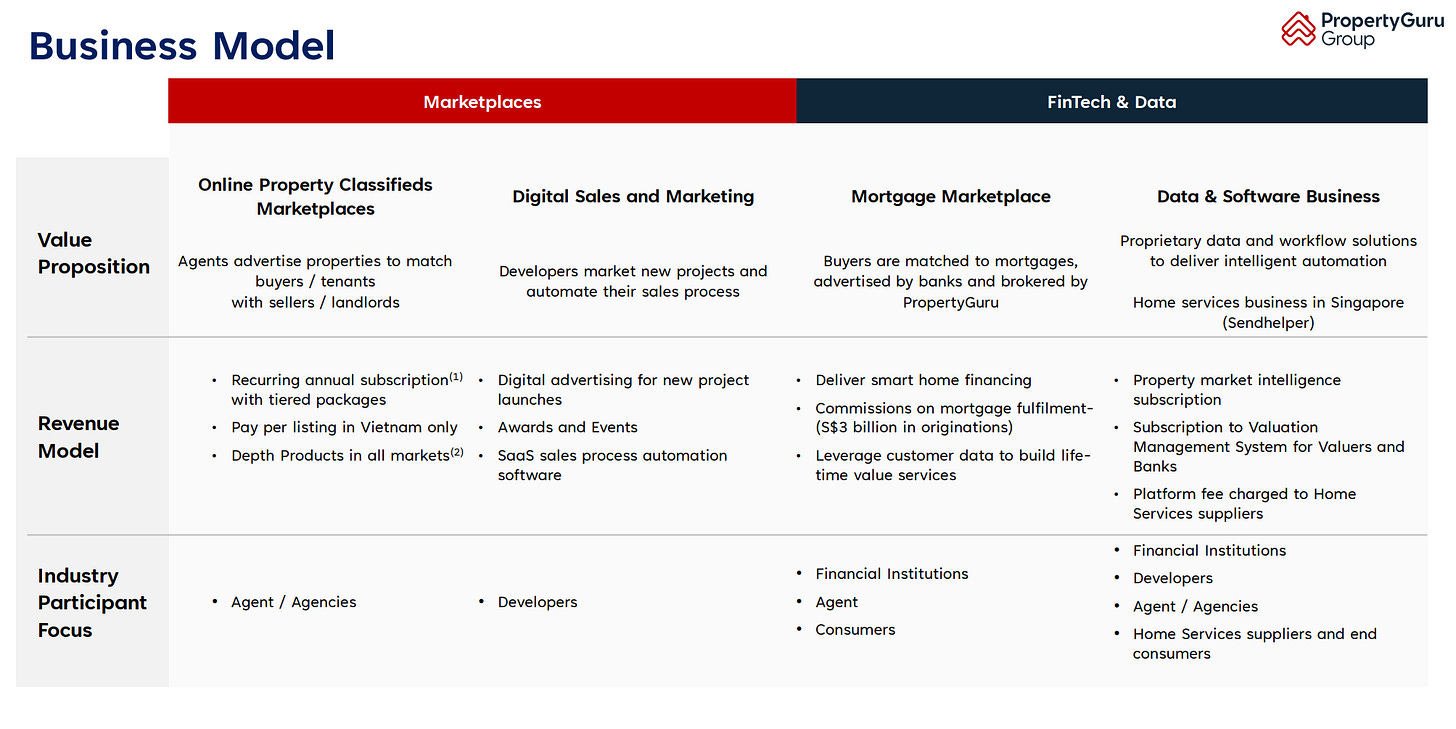 Competition
PropertyGuru has built a commanding position in the property classifieds market in four of its six markets. Indonesia and Australia are the only markets where the company doesn't have a majority market share of the property classifieds market today – an area of opportunity for future growth.
Despite its dominant position PropertyGuru does face several competitors across its different markets including Pinhome, Rever, 99.co and many more.
Pinhome is a digital marketplace for properties in Indonesia that functions much the same way that PropertyGuru does. The company was founded in 2020 and has raised $75 million in financing to date. Similarly, Rever is a digital marketplace for properties in Vietnam with a similar set of products and services at PropertyGuru. The company was founded in 2016 and has raised $16 million in financing to date.
99.co is a digital marketplace for properties that operates in Singapore and Indonesia. The platform connects buyers, sellers, renters and tenants through its digital platform as well as offers tools for agents and for users to secure mortgages. The company was founded in 2014 and has raised over $81 million in financing to date. Finally, Ideal is a digital mortgage broker in Indonesia that helps homebuyers secure mortgages quickly and efficiently. The company was founded in 2021 and has raised $3.8 million in financing to date.
Growth Opportunities
While PropertyGuru has built a commanding position in Southeast Asia there remains a lot of potential growth ahead of it. Going forward the company has two main growth paths:
Deepening its investment in Indonesia to capture market share
Growing its home services business line regionally
Expanding its fintech offerings
Indonesia is the largest and most important market in Southeast Asia with a population of 270 million today. The company to date has struggled to replicate the success it has had in other markets in Indonesia. In 2013, Steve Melhuish – a cofounder of PropertyGuru – publicly shared that the company's initial approach to Indonesia had been incorrect. The company had overnight gone live in Malaysia, Indonesia and Thailand which caused its resources to be spread thin across these markets.
Capturing market share in Indonesia is vitally important for the company's future growth prospects. The company can do this via acquisitions of local players such as its 2011 acquisition of Rumah.com and its 2015 acquisition of RumahDijual. As a public company it is better positioned to complete these acquisitions thanks to its access to greater and more complex forms of financing. Besides acquisitions the company will simply need to invest more resources into the country to onboard more agents onto its platform, bring on more listings and build its brand among consumerss. Indonesia is an enormous country composed of over 18,000 islands and is a challenging market to expand into for that reason.
Another potential growth path for the company is to deepen its investment in its home services product operated under the brand Sendhelper. Sendhelper was acquired by PropertyGuru in October 2022 and is a recent addition to its product suite. Sendhelper offers homeowners and tenants a single unified platform to secure a range of home services including cleaning, air conditioner servicing, laundry, pest control and more. Home services are a natural upsell opportunity for PropertyGuru as it acquires homeowners and tenants through its other product lines and can use home services to build a longer-term recurring relationship with these customers. Currently Sendhelper is only live in Singapore and the company will likely expand the product to its other markets over time. Home services can be a significant growth opportunity for the company as homes on averages require several thousand dollars of maintenance on an annual basis for their entire lifetime.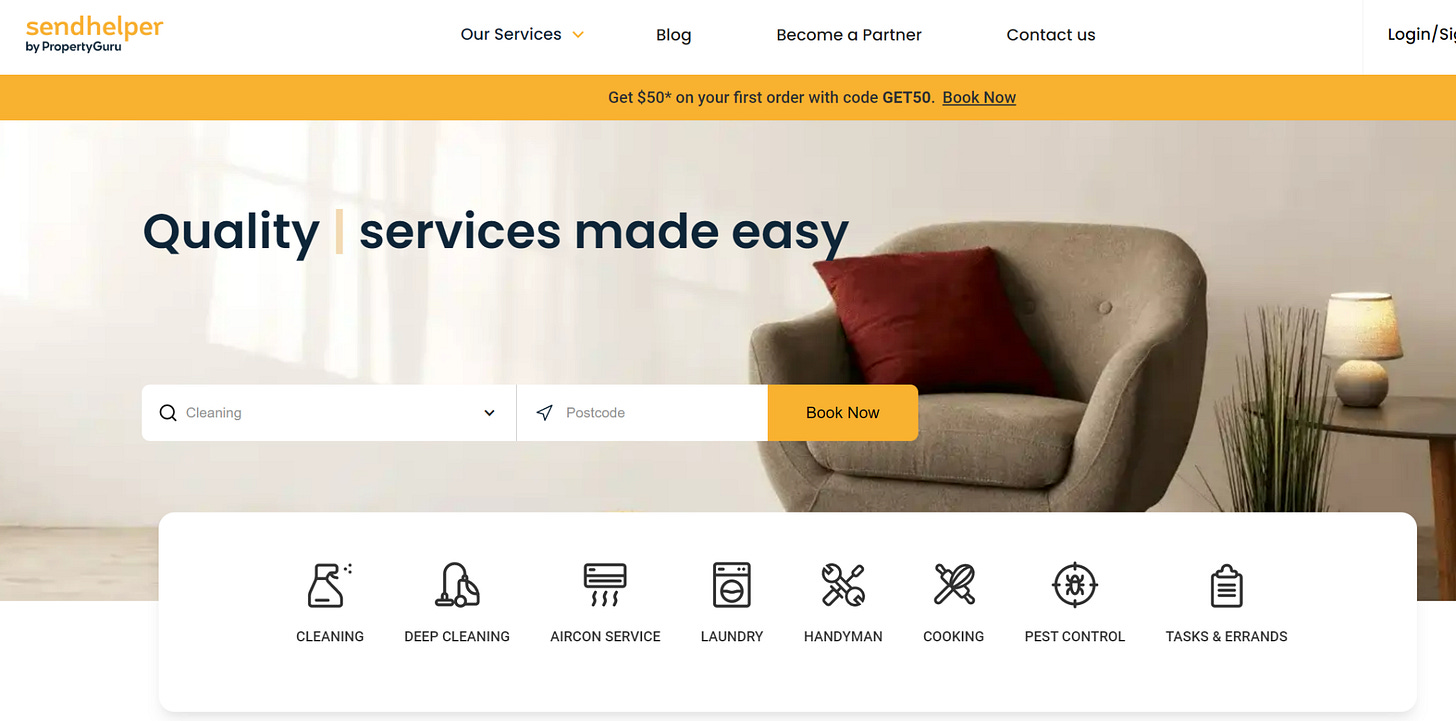 Lastly – as in most emerging markets – expanding further into fintech is a significant growth opportunity for PropertyGuru. The company launched PropertyGuru Finance in 2020 in Singapore to help buyers secure mortgages and has since brokered over $2 billion in mortgages to date. Real estate is one of the most debt-intensive industries in the world and the opportunities to apply fintech are enormous. With more than 70% of Southeast Asia's population categorized as unbanked or underbanked, the opportunity to provide them real estate related fintech products is significant.
Overall PropertyGuru has built a dominant position as the go-to digital property platform in Southeast Asia for all the different stakeholders in the real estate market. As one of the few startups from Southeast Asia to successfully list on the NYSE the company is one of the early tech success stories out of Southeast Asia. As it embarks on its life as a public company and focuses on unlocking its next phase of growth it will be a key barometer of how large technology companies can get in Southeast Asia and what opportunities international investors see in the region over time.
This article was originally published in my newsletter Emergent.